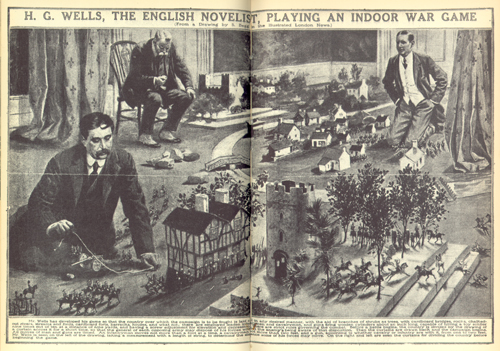 H.G. Wells played war games. In 1913 he published a set of rules for playing with miniature infantry, cavalry, and artillery, worked out with his friend Jerome K. Jerome while playing with toy soldiers after lunch one day.
He fired that day a shot that still echoes round the world. An affair — let us parallel the Cannonade of Valmy and call it the Cannonade of Sandgate — occurred, a shooting between opposed ranks of soldiers, a shooting not very different in spirit — but how different in results! — from the prehistoric warfare of catapult and garter. 'But suppose,' said his antagonists; 'suppose somehow one could move the men!' and therewith opened a new world of belligerence.
With another friend and a lot of playtesting, he worked out a set of rules by which two players contend for control of a battlefield, "little brisk fights in which one may suppose that all the ammunition and food needed are carried by the men themselves."
In two or three moves the guns are flickering into action, a cavalry melee may be in progress, the plans of the attack are more or less apparent, here are men pouring out from the shelter of a wood to secure some point of vantage, and here are troops massing among farm buildings for a vigorous attack. The combat grows hot round some vital point. Move follows move in swift succession. One realises with a sickening sense of error that one is outnumbered and hard pressed here and uselessly cut off there, that one's guns are ill-placed, that one's wings are spread too widely, and that help can come only over some deadly zone of fire.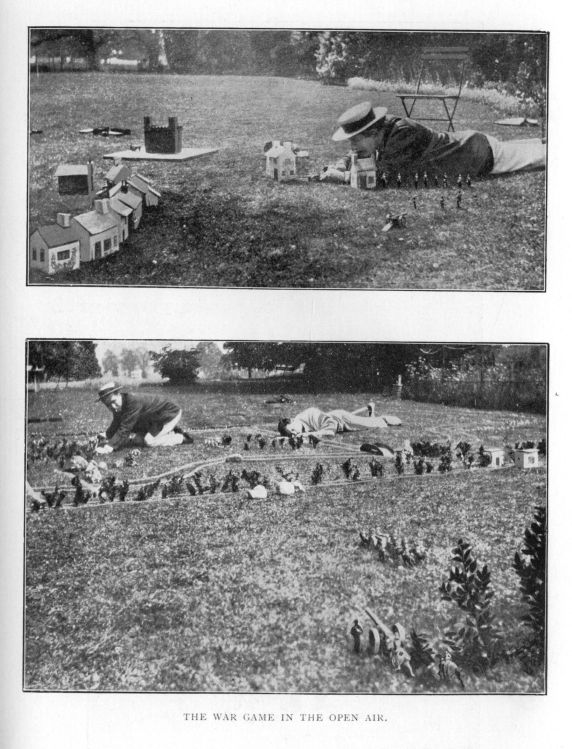 When Wells published his rules in August 1913, the Spectator raved that "there can be no doubt at all as to the excellence of Little Wars as a game for its own sake" — "Mr. Wells describes his new game and sets out its rules so attractively, and has, moreover, added to his description such alluring photographs, that his readers will find it hard indeed not to hurry out to the toy-shop round the corner, raise the necessary levies, and fall down forthwith upon hands and knees to emulate his achievements in the Battle of Hook's Farm."
Happily, since it was published a century ago, the whole thing is in the public domain — it's available at Project Gutenberg.