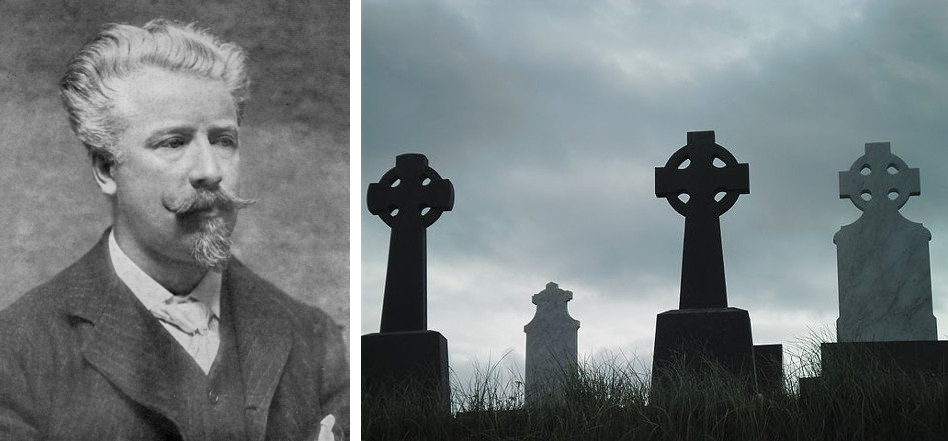 When the Scottish writer William Sharp died in 1905, his wife revealed a surprising secret: For 10 years he had kept up a second career as a reclusive novelist named Fiona Macleod, carrying on correspondences and writing works in two distinctly different styles. In this week's episode of the Futility Closet podcast we'll explore Sharp's curious relationship with his feminine alter ego, whose sporadic appearances perplexed even him.
We'll also hunt tigers in Singapore and puzzle over a surprisingly unsuccessful bank robber.
Intro:
In 1904 Mrs. Membury, of Hyde Corner, Bridport, Dorset, set out to make a snake of stamps.
In 1996, mathematician Michael J. Bradley noticed that his son's Little League rulebook specified a geometrically impossible home plate.
Sources for our feature on Fiona Macleod:
Flavia Alaya, William Sharp — "Fiona Macleod," 1855-1905, 1970.
Terry L. Meyers, The Sexual Tensions of William Sharp, 1996.
John Sutherland, Curiosities of Literature, 2013.
"Sharp's Death Solves a Literary Mystery," New York Times, Dec. 15, 1905.
Emmeline Pethick Lawrence, "A Man With Two Souls," Votes for Women, Jan. 6, 1911.
"The Past Year's Literary Output," Sydney Morning Herald, Feb. 16, 1901.
"Fiona Macleod," Athenaeum 3733 (May 13, 1899), 596.
"Fiona Macleod," The Academy, May 15, 1897, 525-526.
Georgiana Goddard King, "Fiona Macleod," Modern Language Notes 33:6 (June 1918), 352-356.
Alfred Noyes, "Fiona Macleod," Fortnightly Review 79:469 (January 1906), 163.
"Fiona Macleod," The Academy, Dec. 16, 1905, 1312-1313.
Ethel Rolt-Wheeler, "Fiona Macleod — The Woman," Fortnightly Review 106:635 (November 1919), 780-790.
Frank Rinder, "William Sharp — 'Fiona Macleod,'" Art Journal, February 1906, 44-45.
"Miss Fiona Macleod," The Sketch 23:296 (Sept. 28, 1898), 430.
"Fiona Macleod," Vogue 13:13 (March 30, 1899), 206.
Catharine A. Janvier, "Fiona Macleod and Her Creator William Sharp," North American Review 184:612 (April 5, 1907), 718-732.
William Sharp "Fiona Macleod" Archive, Institute of English Studies, University of London.
James Norman Hall, Oh Millersville!, 1940.
Edward Brunner, "'Writing Another Kind of Poetry': James Norman Hall as 'Fern Gravel' in Oh Millersville!", Iowa Journal of Cultural Studies 8/9 (Spring 2006), 44-59.
Listener mail:
Cara Giaimo, "How Millions of Secret Silk Maps Helped POWs Escape Their Captors in WWII," Atlas Obscura, Dec. 20, 2016.
"A Tiger in Town," Straits Times, Aug. 13, 1902.
"Notes of the Day," Straits Times, Oct. 27, 1930.
Tom Standage, A History of the World in Six Glasses, 2010.
Mark Pendergrast, Uncommon Grounds: The History of Coffee and How It Transformed Our World, 2010.
This week's lateral thinking puzzle was contributed by listener Davide Tassinari, who sent this corroborating link (warning — this spoils the puzzle).
You can listen using the player above, download this episode directly, or subscribe on iTunes or Google Play Music or via the RSS feed at http://feedpress.me/futilitycloset.
Please consider becoming a patron of Futility Closet — on our Patreon page you can pledge any amount per episode, and we've set up some rewards to help thank you for your support. You can also make a one-time donation on the Support Us page of the Futility Closet website.
Many thanks to Doug Ross for the music in this episode.
If you have any questions or comments you can reach us at podcast@futilitycloset.com. Thanks for listening!