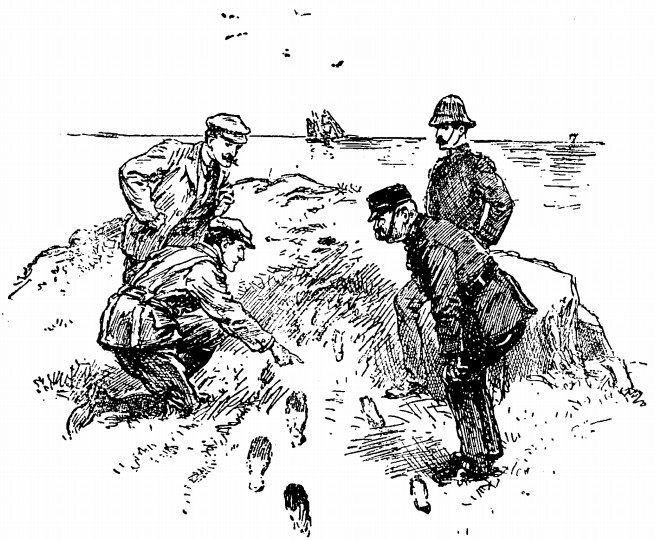 Police have chased two thieves to the Cornish coast. There they find that two sets of footprints depart the hard road and cross soft soil to the edge of a cliff, where they end. The cliff juts out 200 feet above sea-washed boulders. No one could survive a fall from this height, there is no way to descend the cliff, and there are no other footprints.
The police have proven that the footprints match those of the fleeing criminals. The small foot belongs to Marsh, who apparently takes relatively long strides, walking heavily on his heels. Lamson takes shorter strides, treading more on his toes and evidently following behind Marsh, as he sometimes treads over the smaller man's footprints.
The two men did not walk to the cliff edge and then return to the road by walking backward in their own footprints — such precision over a course of 200 yards is impossible. Accordingly the inspector says he will report that the criminals, hopeless to escape justice, have hurled themselves to their death.
"Then you will make a fatal mistake," says Henry Melville, a visiting member of the Puzzle Club. "The men are alive and in hiding in the district." He proves to be right, but how did the men get away from the edge of the cliff?