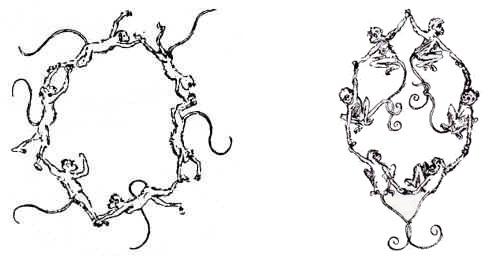 In a joke issue of the Berichte der Deutschen Chemischen Gesellschaft in 1886, F.W. Findig offered an article on the constitution of benzene in which he finds that "zoology is capable of rendering the greatest service in clearing up the behavior of the carbon atom":
Just as the carbon atom has 4 affinities, so the members of the family of four-handed animals possess four hands, with which they seize other objects and cling to them. If we now think of a group of six members of this family, e.g. Macacus cynocephalus, forming a ring by offering each other alternately one and two hands, we reach a complete analogy with Kekulé's benzene-hexagon (Fig. 1).

Now, however, the aforesaid Macacus cynocephalus, besides its own four hands, possesses also a fifth gripping organ in the shape of a caudal appendix. By taking this into account, it becomes possible to link the 6 individuals of the ring together in another manner. In this way, one arrives at the following representation: (Fig. 2).
"It appears to me highly probable that a complete analogy exists between Macacus cynocephalus and the carbon atom," Findig wrote. "In this case, each C-atom also possesses a caudal appendix, which, however, cannot be included among the normal affinities, although it takes part in the linking. Immediately this appendix, which I call the 'caudal residual affinity', comes into play, a second form of Kekulé's hexagon is produced; this, being obviously different from the first, must behave differently."
(From John Read, Humour and Humanism in Chemistry, 1947.)