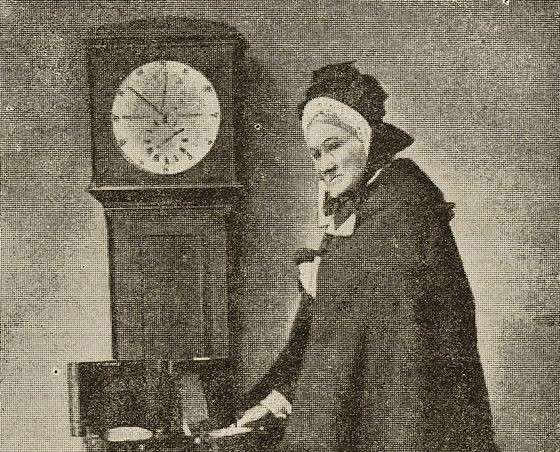 As recently as 1939, a London woman made her living by setting her watch precisely at the Greenwich observatory and "carrying the time" to her customers in the city. In this week's episode of the Futility Closet podcast we'll meet Ruth Belville, London's last time carrier, who conducted her strange occupation for 50 years.
We'll also sample the colorful history of bicycle races and puzzle over a stymied prizewinner.
Sources for our feature on Ruth Belville:
David Rooney, Ruth Belville: The Greenwich Time Lady, 2008.
Ian R. Bartky, Selling the True Time, 2000.
Patricia Fara, "Modest Heroines of Time and Space," Nature, Oct. 30, 2008.
Stephen Battersby, "The Lady Who Sold Time," New Scientist, Feb. 25, 2006.
Carlene E. Stephens, "Ruth Belville: The Greenwich Time Lady," Technology and Culture 51:1 (January 2010), 248-249.
Michael R. Matthews, Colin Gauld, and Arthur Stinner, "The Pendulum: Its Place in Science, Culture and Pedagogy," in Michael R. Matthews, Colin F. Gauld, and Arthur Stinner, eds., The Pendulum: Scientific, Historical, Philosophical and Educational Perspectives, 2005.
Listener mail:
Eric Niiler, "Tour de France: Top 10 Ways the Race Has Changed," Seeker, June 29, 2013.
Julian Barnes, "The Hardest Test: Drugs and the Tour de France," New Yorker, Aug. 21, 2000.
Wikipedia, "Race Across America" (accessed June 3, 2016).
Wikipedia, "Trans Am Bike Race" (accessed June 3, 2016).
Neil Beltchenko, "2014 Trans Am Race," Bikepackers Magazine, June 6, 2014.
This week's lateral thinking puzzle was contributed by listener Tommy Honton, who sent this corroborating link (warning — this spoils the puzzle).
You can listen using the player above, download this episode directly, or subscribe on iTunes or Google Play Music or via the RSS feed at http://feedpress.me/futilitycloset.
Please consider becoming a patron of Futility Closet — on our Patreon page you can pledge any amount per episode, and all contributions are greatly appreciated. You can change or cancel your pledge at any time, and we've set up some rewards to help thank you for your support. You can also make a one-time donation on the Support Us page of the Futility Closet website.
Many thanks to Doug Ross for the music in this episode.
If you have any questions or comments you can reach us at podcast@futilitycloset.com. Thanks for listening!