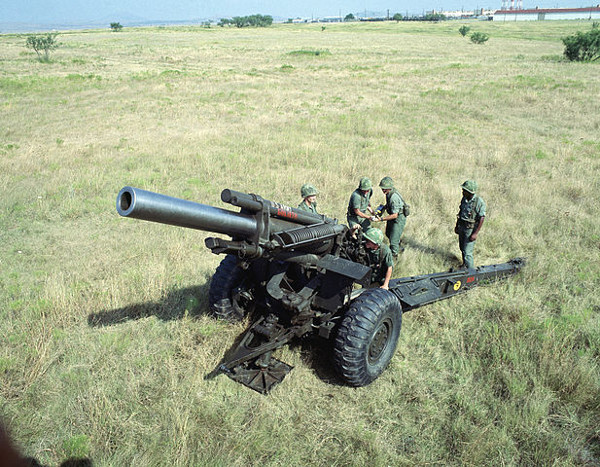 During wargames in Louisiana in September 1941, the U.S. Army found itself drawn into a tense firefight with an unseen enemy across the Cane River. The attacker turned out to be three boys with a toy cannon. In this week's episode of the Futility Closet podcast we'll revisit the Battle of Bermuda Bridge and the Prudhomme brothers' account of their historic engagement.
We'll also rhapsodize on guinea pigs and puzzle over some praiseworthy incompetence.
Sources for our feature on the "Battle of Bermuda Bridge":
Elizabeth M. Collins, "Patton 'Bested' at the Battle of Bermuda Bridge," Soldiers 64:9 (September 2009), 10-12.
Terry Isbell, "The Battle of the Bayous: The Louisiana Maneuvers," Old Natchitoches Parish Magazine 2 (1997), 2-7.
Special thanks to the staff at the University of North Carolina's Wilson Library for access to the Prudhomme family records.
Listener mail:
Alastair Bland, "From Pets To Plates: Why More People Are Eating Guinea Pigs," The Salt, National Public Radio, April 2, 2013.
Christine Dell'Amore, "Guinea Pigs Were Widespread as Elizabethan Pets," National Geographic, Feb. 9, 2012.
Wikipedia, "Guinea Pig" (accessed May 20, 2016).
David Adam, "Why Use Guinea Pigs in Animal Testing?", Guardian, Aug. 25, 2005.
Maev Kennedy, "Elizabethan Portraits Offer Snapshot of Fashion for Exotic Pets," Guardian, Aug. 20, 2013.
"How Did the Guinea Pig Get Its Name?", Grammarphobia, Dec. 22, 2009.
This week's lateral thinking puzzle was contributed by listener Tommy Honton, who sent these corroborating links (warning: these spoil the puzzle).
You can listen using the player above, download this episode directly, or subscribe on iTunes or Google Play Music or via the RSS feed at http://feedpress.me/futilitycloset.
Enter code CLOSET to get $5 off your first purchase of high-quality razor blades at Harry's.
Many thanks to Doug Ross for the music in this episode.
If you have any questions or comments you can reach us at podcast@futilitycloset.com. Thanks for listening!