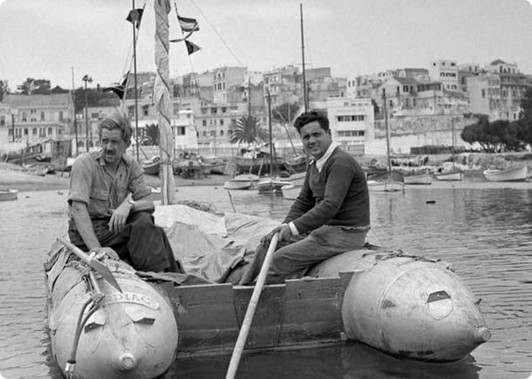 In 1952, French physician Alain Bombard set out to cross the Atlantic on an inflatable raft to prove his theory that a shipwreck victim can stay alive on a diet of seawater, fish, and plankton. In this week's episode of the Futility Closet podcast we'll set out with Bombard on his perilous attempt to test his theory.
We'll also admire some wobbly pedestrians and puzzle over a luckless burglar.
Please consider becoming a patron of Futility Closet — on our Patreon page you can pledge any amount per episode, and all contributions are greatly appreciated. You can change or cancel your pledge at any time, and we've set up some rewards to help thank you for your support.
You can also make a one-time donation via the Donate button in the sidebar of the Futility Closet website.
Sources for our feature on Alain Bombard:
Alain Bombard, The Voyage of the Hérétique, 1953.
William H. Allen, "Thirst," Natural History, December 1956.
Richard T. Callaghan, "Drift Voyages Across the Mid-Atlantic," Antiquity 89:345 (2015), 724-731.
T.C. Macdonald, "Drinking Sea-Water," British Medical Journal 1:4869 (May 1, 1954), 1035.
Dominique Andre, "Sea Fever," Unesco Courier, July/August 1998.
N.B. Marshall, "Review: The Voyage of L'hérétique," Geographical Journal 120:1 (March 1954), 83-87.
Douglas Martin, "Alain Bombard, 80, Dies; Sailed the Atlantic Alone," New York Times, July 24, 2005.
Anthony Smith, "Obituary: Alain Bombard," Guardian, Aug. 24, 2005.
John Scott Hughes, "Deep Sea in Little Ships," The Field, May 27, 1954.
"Will This Be Another 'Kon Tiki'?" The Sphere, June 7, 1952.
"Mishap And Survival At Sea," The Sphere, April 2, 1955.
Bryan Kasmenn, "Teach a Man to Fish …," Flying Safety 57:5 (May 2001), 20.
Listener mail:
National Public Radio, "In The 1870s And '80s, Being A Pedestrian Was Anything But," April 3, 2014.
Wikipedia, "Edward Payson Weston" (accessed May 7, 2016).
Wikipedia, "6 Day Race" (accessed May 7, 2016).
This week's lateral thinking puzzle was adapted from the book Lateral Mindtrap Puzzles (2000). Here's a corroborating link (warning — this spoils the puzzle).
You can listen using the player above, download this episode directly, or subscribe on iTunes or Google Play Music or via the RSS feed at http://feedpress.me/futilitycloset.
Many thanks to Doug Ross for the music in this episode.
If you have any questions or comments you can reach us at podcast@futilitycloset.com. Thanks for listening!