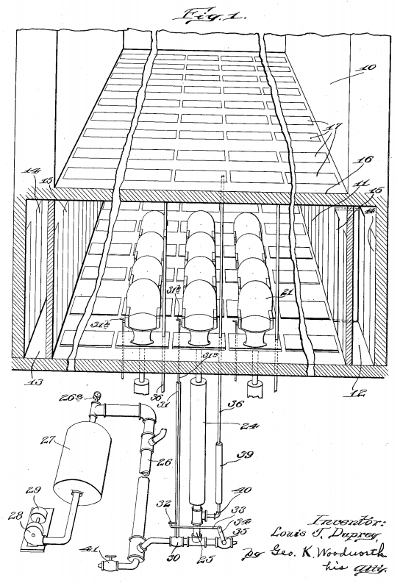 In 1924, as today, it was troublesome and embarrassing to have to excuse your way down a row of theater patrons to get to your seat. Massachusetts inventor Louis Duprey offered this improvement: The whole auditorium is built atop a "loading compartment" where each patron can take his seat, which is then raised on a giant plunger into the theater.
During a performance, any seat occupant may depart by merely turning the handpiece, causing the seat to be lowered into the lobby or loading compartment, and in like manner he may again re-enter the auditorium without in any wise disturbing, or interfering with the view of, other patrons.
A side benefit is that "in case of fire or other panic" all the seats can be lowered into the loading chamber, which is fireproof and designed to accommodate an orderly mass exit. You can even retrieve your hat from the underside of the trapdoor as you take your leave.