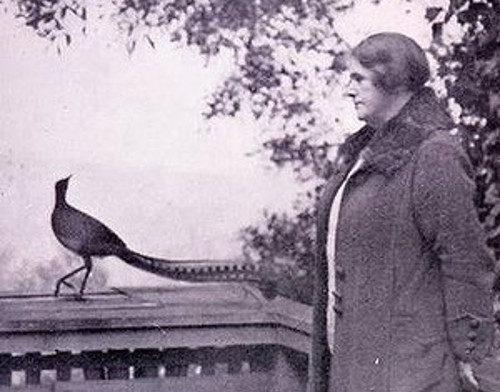 Almost nothing was known about Australia's elusive lyrebird until 1930, when an elderly widow named Edith Wilkinson encountered one on her garden path one February morning. In this week's episode of the Futility Closet podcast we'll follow the curious friendship that evolved between Wilkinson and "James," which led to an explosion of knowledge about his reclusive species.
We'll also learn how Seattle literally remade itself in the early 20th century and puzzle over why a prolific actress was never paid for her work.
Please consider becoming a patron of Futility Closet — on our Patreon page you can pledge any amount per episode, and all contributions are greatly appreciated. You can change or cancel your pledge at any time, and we've set up some rewards to help thank you for your support.
You can also make a one-time donation via the Donate button in the sidebar of the Futility Closet website.
Sources for our feature on Edith Wilkinson and James:
Ambrose Pratt, The Lore of the Lyrebird, 1933.
Nicolae Sfetcu, The Birds' World, 2014.
Jackie Kerin, Lyrebird! a True Story, 2012.
"A.P.", "A Miracle of the Dandenongs," The Age, Feb. 13, 1932.
Anna Verona Dorris, "The Proud Aristocrat of Birdland," New Outlook, July-August 1956.
Here's the full lyrebird video we excerpted on the show:
More lyrebirds mimicking human technology on Futility Closet.
Listener mail:
Chicago links:
"The Colorful Front-Gabled Italianate Homes at Damen and 33rd," Chicago Patterns (accessed Jan. 1, 2016).
John McCarron, "Pilsen Comes Together to Preserve and Build," LISC Chicago's New Communities Program, May 3, 2007 (accessed Jan. 1, 2016).
Down to Earth: 9 Stories Above Pilsen (accessed Jan. 1, 2016).
Seattle links:
Wikipedia, "Regrading in Seattle" (accessed Jan. 1, 2016).
Matthew W. Klingle, "Reclaiming Nature: Flattening Hills and Digging Waterways in Seattle," in Building Nature: Topics in the Environmental History of Seattle and Spokane: A Curriculum Project for Washington Schools, Center for the Study of the Pacific Northwest, University of Washington Department of History (accessed Jan. 1, 2016).
This week's lateral thinking puzzle is adapted from "Detective Shadow's" 2000 book Lateral Mindtrap Puzzles. Here's a corroborating link (don't click until you've listened to the episode).
You can listen using the player above, download this episode directly, or subscribe on iTunes or via the RSS feed at http://feedpress.me/futilitycloset.
Many thanks to Doug Ross for the music in this episode.
If you have any questions or comments you can reach us at podcast@futilitycloset.com. Thanks for listening!