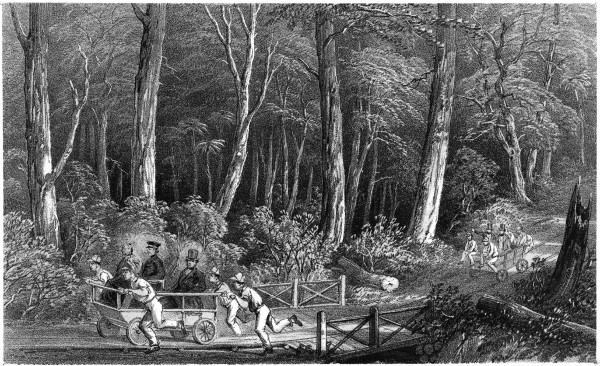 The first passenger railway in Australia was powered by convicts. Four-passenger carts ran on hardwood rails from the dock at the head of Norfolk Bay to the main settlement at Port Arthur, some 4.5 miles away. (Click the image to enlarge it.) On steep downhill slopes the carts could reach 30 mph, as observed by Col. Godfrey Mundy on an 1851 visit:
The prisoners seized certain bars crossing the front and back of the carriages, and after pushing them with great toil up a considerable plane, reached the top of a long descent, when, getting up their steam, down they rattled at tremendous speed — tremendous, at least, to lady-like nerves — the chains around their ankles chinking and clanking as they trotted along. … [T]he runners jumped upon the side of the trucks in rather unpleasant proximity with the passengers, and away we all went, bondsmen and freemen, jolting and swaying … a man sitting behind contrived, more or less, to lock a wheel with a wood crowbar when the descent became so rapid as to call for remonstrance.
He added, "Our poor beasts of burthen at the end of the traject seemed terribly jaded, running down with sweat, and saw one of them continually trying to shift his irons from a galled spot on his ankle." On the return journey that afternoon, the leader asked whether they might stop briefly, as the men had had nothing to eat for 12 hours.
After visiting a similar railway at Ralph Bay Neck in 1847, Lt.-Gov. Sir William Denison wrote, "I must say that my feelings at seeing myself seated, and pushed along by these miserable convicts, were not very pleasant. It was painful to see them in the condition of slaves, which, in fact, they are, waiting for me up to their knees in water."
(From Robert Hughes, The Fatal Shore, 1987.)