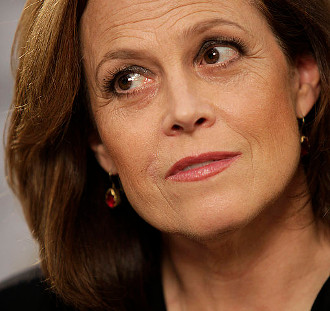 Sigourney Weaver was born Susan Weaver. She named herself Sigourney at 14, after a character mentioned briefly by Jordan Baker in The Great Gatsby:
She came over to me and whispered, 'I've just heard the most surprising thing. Look, please come and see me. I'm staying at my aunt's … Mrs. Sigourney Howard … phone book …' She was hurrying away as she spoke, to join her friends who were waiting to drive her home.
"I was so tall," Weaver told Time in 1986, "and Susan was such a short name. To my ear Sigourney was a stage name — long and curvy, with a musical ring."
She couldn't have known it at the time, but it appears that Fitzgerald intended Sigourney to be a man's name: He had borrowed it from his friend Father Sigourney Fay, to whom This Side of Paradise is also dedicated.
"Jordan, it is clear, is here adopting the formal 'English' style of addressing her aunt by her husband's name(s)," writes John Sutherland in Curiosities of Literature. "This was not just etiquette in the best circles; it was standard procedure in phone books of the 1920s. The husband paid the bills, and his was the name listed."