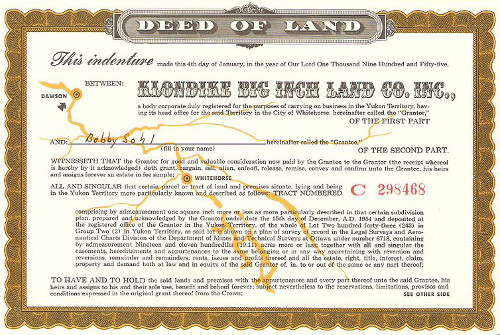 If you opened a box of Quaker Oats in 1955, you'd find a deed to one square inch of land in northwestern Canada. In this week's episode of the Futility Closet podcast we'll tell the story behind the Klondike Big Inch land giveaway, whose bizarre consequences are still being felt today.
We'll also hear about a time traveler who visited the British Museum in 1997 and puzzle over why a prizewinning farmer gives away his best seed to his competitors.
Sources for our feature on the Klondike Big Inch land promotion:
Jack McIver, "The Great Klondike Big Inch Land Caper," Ottawa Citizen, March 27, 1975.
"The Great Klondike Rush of '55," Ottawa Citizen, Dec. 8, 1955.
"Sgt. Preston Inspired Great Yukon Land Deals," Reading (Pa.) Eagle, Jan. 1, 1987.
Dave White, "Quaker Oats Klondike Deed Scam Still Sizzling," Yukon News, Jan. 26, 1990.
"Cereal Giveaway Now a Pain," Montreal Gazette, May 12, 1971.
"The Klondike Big Inch," yukoninfo, accessed 10/23/2015.
John Robert Colombo, Canadian Literary Landmarks, 1984.
Big Inch deeds can sometimes be found on eBay — here are two that sold in March.
Sources for our feature on Enoch Soames, time travel, and literary memory:
Max Beerbohm, "Enoch Soames: A Memory of the Eighteen-Nineties," 1916.
Teller, "A Memory of the Nineteen-Nineties," Atlantic, November 1997.
Chris Jones, "The Honor System," Esquire, October 2012.
The Flickr photo of Soames is here, and there's a bit more background here. 10/27/2015 UPDATE: Listener Steve Winters has found another photo (about midway down the page). (Thanks, Steve.)
This week's lateral thinking puzzles are from Paul Sloane and Des MacHale's 1996 book Intriguing Lateral Thinking Puzzles.
You can listen using the player above, download this episode directly, or subscribe on iTunes or via the RSS feed at http://feedpress.me/futilitycloset.
Please consider becoming a patron of Futility Closet — on our Patreon page you can pledge any amount per episode, and all contributions are greatly appreciated. You can change or cancel your pledge at any time, and we've set up some rewards to help thank you for your support.
You can also make a one-time donation via the Donate button in the sidebar of the Futility Closet website.
Many thanks to Doug Ross for the music in this episode.
If you have any questions or comments you can reach us at podcast@futilitycloset.com. Thanks for listening!