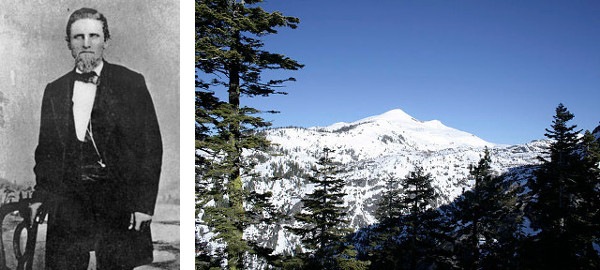 In the 1850s, settlers in western Nevada were cut off from the rest of the world each winter by deep snow. In this week's episode of the Futility Closet podcast we'll learn about their lifeline, Norwegian immigrant John Thompson, who for 20 years carried mail, medicine, and supplies through 90 miles of treacherous snowdrifts on a pair of homemade skis.
We'll also hear listener contributions regarding prison camp escape aids in World War II and puzzle over how lighting a cigarette results in a lengthy prison sentence.
Sources for our feature on Snowshoe Thompson:
Alton Pryor, Classic Tales in California History, 1999.
Erling Ylvisaker, Eminent Pioneers, 1934.
Kay Grant, "'Snowshoe' Thompson: The Norwegian Who Mastered the Rugged Sierra Nevada to Deliver the U.S. Mail," Wild West 18:4 (December 2005): 10, 68-69.
"'Snowshoe' Thompson Finally Gets His Due," Deseret News, May 15, 1976.
Alan Drummer, "Miracle on Skis," Milwaukee Journal, March 1, 1985.
Larry Walsh, "'Snowshoe' Thompson Knew How to Carry the Mail," Pittsburgh Press, Feb. 26, 1992.
"Snowshoe Thompson," Carroll Herald, Dec. 22, 1886.
Red Smith, "Snowshoe Thompson Would Have Chuckled," Ottawa Citizen, Feb. 18, 1960.
Listener mail:
Wikipedia, Snakes and Ladders.
"Clutty and His Escape Devices," in Ian Dear, Escape and Evasion, 2004.
H. Keith Melton, Ultimate Spy, 1996.
This week's lateral thinking puzzle was contributed by listener David White, who sent these corroborating links (warning — these spoil the puzzle).
You can listen using the player above, download this episode directly, or subscribe on iTunes or via the RSS feed at http://feedpress.me/futilitycloset.
Please consider becoming a patron of Futility Closet — on our Patreon page you can pledge any amount per episode, and all contributions are greatly appreciated. You can change or cancel your pledge at any time, and we've set up some rewards to help thank you for your support.
You can also make a one-time donation via the Donate button in the sidebar of the Futility Closet website.
Many thanks to Doug Ross for the music in this episode.
If you have any questions or comments you can reach us at podcast@futilitycloset.com. Thanks for listening!