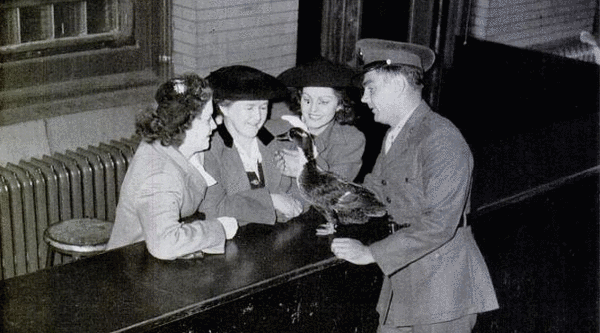 The U.S. 2nd Marine Division picked up an unlikely member in 1943: Siwash the duck, won in a New Zealand raffle, spent 18 months as the mascot of the 1st Battalion, 10th Marines. He took part in three major engagements: Tarawa, Saipan, and Tinian, even winning a combat citation for duckly valor:
For courageous action and wounds received on Tarawa, in the Gilbert Islands, November 1943. With utter disregard for his own personal safety, Siwash, upon reaching the beach, without hesitation engaged the enemy in fierce combat, namely, one rooster of Japanese ancestry, and though wounded on the head by repeated pecks, he soon routed the opposition. He refused medical aid until all wounded members of his section had been care of.
"Siwash holds the rank of sergeant and has a thirst for beer," reported the Associated Press the following year. "The duck nearly lost its tail feathers on a pier at Tarawa, but since then it learned to jump in a foxhole the minute the marines leaped."
When his division arrived in Chicago in October 1944, a luncheon party was held in Siwash's honor, and he gave two radio broadcasts. After the war he helped in recruiting for the Korean War before retiring to the Lincoln Park Zoo, where he died in 1954, 11 years after signing up, modest to the end.