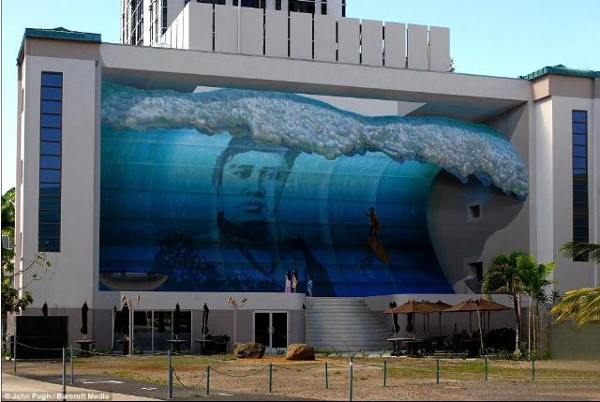 Painted on the east side of the Lani Nalu Plaza building in Honolulu, trompe-l'oeil artist John Pugh's mural Mana Nalu (Power of the Wave) depicts Liliuokalani, the last monarch of the Hawaiian Islands, and surfing pioneer Duke Kahanamoku.
Pugh took a year and a half to create the image, working with 14 other artists. The whole scene is painted, including the wave, the skylight, the balcony, the urns, the children, and the staircase.
"After the mural was near completion," Pugh writes, "a fire truck with crew stopped in the middle of traffic and jumped out to rescue the children in the mural. They got about 15 feet away and then doubled over laughing that they were fooled into an emergency response mode. I don't think that there were any liability issues for a false report."
More of Pugh's work here and on his website.
(Thanks, Ron.)