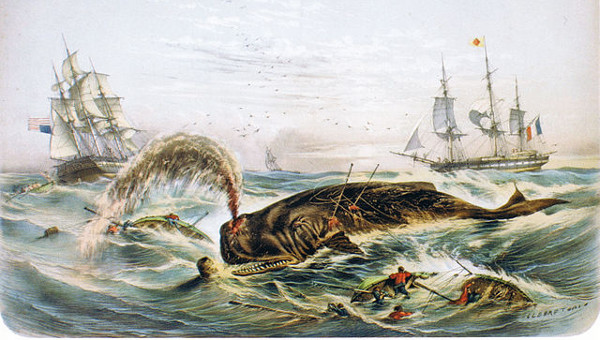 In 1820, the Nantucket whaleship Essex was attacked and sunk by an 85-foot sperm whale in the South Pacific, a thousand miles from land. In this episode of the Futility Closet podcast we'll tell the story of the attack, which left 20 men to undertake an impossible journey to South America in three small whaleboats.
We'll also learn about an Australian athlete who shipped himself across the world in a box in 1964 and puzzle over an international traveler's impressive feat of navigation.
Sources for our feature on the whaleship Essex:
Owen Chase, Narrative of the Most Extraordinary and Distressing Shipwreck of the Whaleship Essex, 1821.
Thomas Farel Heffernan, Stove by a Whale: Owen Chase and the Essex, 1981.
Thomas Nickerson et al., The Loss of the Ship Essex, Sunk by a Whale, 2000.
Nathaniel Philbrick, In the Heart of the Sea, 2000.
Herman Melville, Moby-Dick, 1851.
Adam Summers, "Fat Heads Sink Ships," Natural History 111:7 (September 2002): 40-41.
David R. Carrier, Stephen M. Deban, and Jason Otterstrom, "The Face That Sank the Essex: Potential Function of the Spermaceti Organ in Aggression," Journal of Experimental Biology 205:12 (June 15, 2002), 1755-1763.
Henry F. Pommer, "Herman Melville and the Wake of The Essex," American Literature 20:3 (November 1948): 290-304.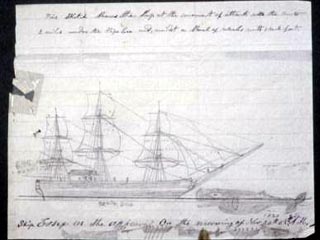 Fourteen-year-old cabin boy Thomas Nickerson was at the helm at the time of the attack; he made this sketch later in life. "I heard a loud cry from several voices at once, that the whale was coming foul of the ship. Scarcely had the sound of their voices reached my ears when it was followed by a tremendous crash. The whale had struck the ship with his head directly under the larboard fore chains at the waters edge with such force as to shock every man upon his feet."
Thanks to listener David Balmain (and David McRaney's "You Are Not So Smart" podcast) for the tip about penurious javelinist Reg Spiers' 1964 postal odyssey to Australia. Further sources for that segment:
Jason Caffrey, "The Man Who Posted Himself to Australia," BBC World Service, March 6, 2015.
Reg Spiers, "I Posted Myself in a Box From England to Australia," Financial Times, June 19, 2015.
"Going East in a Coffin," Chicago Herald, Oct. 25, 1887.
This week's lateral thinking puzzle was contributed by listener Jason Wood, who sent this corroborating link (warning — this spoils the puzzle).
You can listen using the player above, download this episode directly, or subscribe on iTunes or via the RSS feed at http://feedpress.me/futilitycloset.
Use this link to get video and audio lectures at up to 80 percent off the original price from The Great Courses.
Please consider becoming a patron of Futility Closet — on our Patreon page you can pledge any amount per episode, and all contributions are greatly appreciated. You can change or cancel your pledge at any time, and we've set up some rewards to help thank you for your support.
You can also make a one-time donation via the Donate button in the sidebar of the Futility Closet website.
Many thanks to Doug Ross for the music in this episode.
If you have any questions or comments you can reach us at podcast@futilitycloset.com. Thanks for listening!