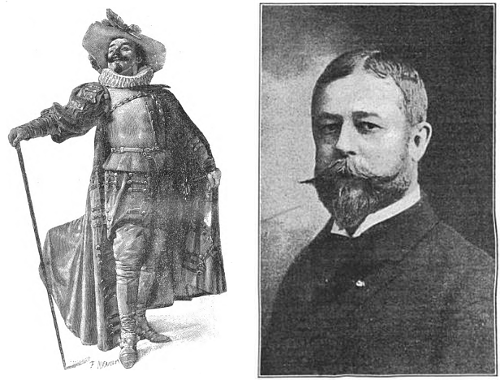 Edmond Rostand's hit play Cyrano de Bergerac met an unexpected obstacle in 1898 — a Chicago real estate developer who claimed that it plagiarized his own play. In this week's podcast we'll review the strange controversy and the surprising outcome of the lawsuit that followed.
We'll also hear an update on the German author who popularized an American West that he had never seen and puzzle over a Civil War private who refuses to fight.
Sources for our feature on Cyrano de Bergerac and The Merchant Prince of Cornville:
"Gross-Rostand Controversy," in George Childs Kohn, New Encyclopedia of American Scandal, 2001.
Edmond Rostand, Cyrano de Bergerac, 1897.
Samuel Eberly Gross, The Merchant Prince of Cornville, 1896.
Jay Pridmore, "Recalling 'Merchant Prince' of the 1880s," Chicago Tribune, Feb. 28, 1992.
"Chronicle and Comment," The Bookman, November 1910.
The Critic, February 1899, p. 116.
"Samuel Gross's Cyrano," New York Times, June 1, 1902.
"Rostand Indignant," The Pittsburgh Press, June 1, 1902.
"Rostand's Champion," The Carroll Herald, June 4, 1902.
"'Cyrano de Bergerac' a Plagiarism," Boston Evening Transcript, May 21, 1902.
"The Law and the Nose," Pittsburgh Press, Sept. 10, 1902.
"Dollar Is Spent," The Milwaukee Journal, Sept. 17, 1902.
Listener mail:
Wikipedia, Hadschi Halef Omar (retrieved July 8, 2015).
Dschinghis Khan's disco song "Hadschi Halef Omar" is here. Translated lyrics are here.
Listener Krisztián Vida sent links to some pages and a video on "American Indians" in Central Europe.
Wikipedia, Emilio Salgari (retrieved July 8, 2015).
This week's lateral thinking puzzle was contributed by listener Jackie Speir.
You can listen using the player above, download this episode directly, or subscribe on iTunes or via the RSS feed at http://feedpress.me/futilitycloset.
Please consider becoming a patron of Futility Closet — on our Patreon page you can pledge any amount per episode, and all contributions are greatly appreciated. You can change or cancel your pledge at any time, and we've set up some rewards to help thank you for your support.
You can also make a one-time donation via the Donate button in the sidebar of the Futility Closet website.
Many thanks to Doug Ross for the music in this episode.
If you have any questions or comments you can reach us at podcast@futilitycloset.com. You can also follow us on Facebook and Twitter. Thanks for listening!