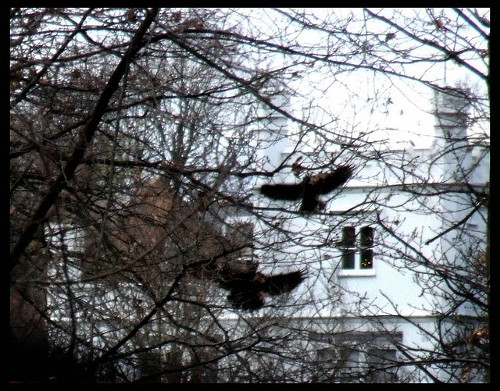 In 1876 London was riveted by the dramatic poisoning of a young barrister and the sordid revelations that emerged about his household. In today's show we'll review the baffling case of Charles Bravo's murder, which Agatha Christie called "one of the most mysterious poisoning cases ever recorded."
We'll also get an update on career possibilities for garden hermits and puzzle over how the police know that a shooting death is not a homicide.
Many thanks to Ronald Hackston for his evocative photo of The Priory, Balham, the site of Charles Bravo's unsolved 1876 poisoning.
Sources for that feature:
James Ruddick, Death at the Priory: Sex, Love, and Murder in Victorian England, 2001.
Chirag Trivedi, "Victorian Whodunnit Solved," BBC, Jan. 13, 2003 (accessed June 28, 2015).
"The Bravo Inquiry" and "The Theory of Suicide in the Bravo Case," Medical Times and Gazette, Aug. 19, 1876.
Joyce Emmerson Muddock, Pages From an Adventurous Life, 1907.
Listener mail:
Amanda Williams, "Wanted: 'Outgoing' Hermit," Daily Mail, May 5, 2014 (retrieved July 3, 2015).
Greater Manchester News, "Hermit Wanted for Historic Gardens," July 3, 2009 (retrieved July 3, 2015).
"Hermit Wanted for 'Ivory Tower'," BBC, July 1, 2009 (retrieved July 3, 2015).
This week's lateral thinking puzzle was contributed by listener Sam B., who sent this corroborating link (warning: this spoils the puzzle).
You can listen using the player above, download this episode directly, or subscribe on iTunes or via the RSS feed at http://feedpress.me/futilitycloset.
Enter coupon code CLOSET to get $5 off your first purchase at Harry's.
Please consider becoming a patron of Futility Closet — on our Patreon page you can pledge any amount per episode, and all contributions are greatly appreciated. You can change or cancel your pledge at any time, and we've set up some rewards to help thank you for your support.
You can also make a one-time donation via the Donate button in the sidebar of the Futility Closet website.
Many thanks to Doug Ross for the music in this episode.
If you have any questions or comments you can reach us at podcast@futilitycloset.com. You can also follow us on Facebook and Twitter. Thanks for listening!