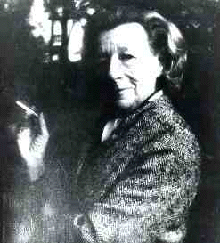 In Lillian Hellman's 1973 memoir Pentimento, she describes a childhood friend whom she calls "Julia" who became active in the Austrian underground during World War II. The book was made into the Oscar-winning 1977 film Julia, starring Jane Fonda and Vanessa Redgrave.
But after the book appeared, readers noticed something peculiar. Julia strongly resembled a real person, Muriel Gardiner, a psychoanalyst. Both women were millionaires' daughters who had attended Wellesley and Oxford, moved to Vienna to study with Freud, bore daughters, became socialists, and participated in anti-Fascist and anti-Nazi activities before the war. But where Gardiner sailed for the United States in 1939, Hellman's Julia was tortured to death by Nazis. Hellman claimed that she flew the body home but had it cremated when she was unable to find Julia's mother.
Despite all these similarities, Hellman insisted that Julia was a different person and said she had never heard of Gardiner. "She may have been the model for somebody else's Julia," she told the New York Times, "but she was certainly not the model for my Julia." She said she refused to reveal her own Julia's name for personal and legal reasons.
Gardiner wrote to Hellman in 1976, inquiring about all this, but never received a reply. She had kept silent about her activities for 40 years — but it's notable that lawyer Wolf Schwabacher had socialized with Hellman in Europe while Gardiner was opposing Fascism in Vienna, and also shared a house with Gardiner after the war.