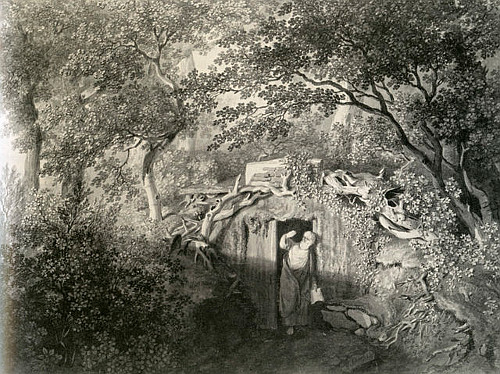 In 18th-century England, wealthy landowners would sometimes hire people to live as hermits in secluded corners of their estates. In today's show we'll explore this odd custom and review the job requirements for life as a poetic recluse.
We'll also meet a German novelist who popularized an American West he had never seen and puzzle over some very generous bank robbers.
Sources for our feature on ornamental hermits:
Gordon Campbell, The Hermit in the Garden, 2013.
Alice Gregory, "Garden Hermit Needed. Apply Within," Boston Globe, May 19, 2013.
Robert Conger Pell, Milledulcia: A Thousand Pleasant Things, 1857.
Edith Sitwell, The English Eccentrics, 1933.
John Timbs, English Eccentrics and Eccentricities, 1875.
Allison Meier, "Before the Garden Gnome, The Ornamental Hermit: A Real Person Paid to Dress Like a Druid," Atlas Obscura, March 18, 2014 (accessed June 9, 2015).
Graeme Wood's article "The Lost Man," describing the latest efforts to identify the Somerton Man, appeared in the California Sunday Magazine on June 7, 2015. The case concerns an unidentified corpse discovered on a South Australian beach in December 1948; for the full story see our Episode 25.
University of Adelaide physicist Derek Abbott's Indiegogo campaign to identify the man runs through June 28. There's also a petition to urge the attorney general of South Australia to exhume the body so that autosomal DNA can be extracted.
Sources for Sharon's discussion of German author Karl May's fictional Apache chief Winnetou:
Michael Kimmelman, "Fetishizing Native Americans: In Germany, Wild for Winnetou," Spiegel Online, Sept. 13, 2007 (accessed June 11, 2015).
Rivka Galchen, "Wild West Germany: Why Do Cowboys and Indians So Captivate the Country?", New Yorker, April 9, 2012 (accessed June 11, 2015).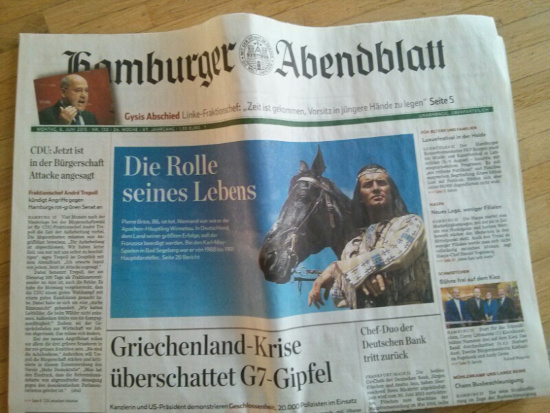 Winnetou is so popular in Germany that the death this month of French actor Pierre Brice, who played him in the movies, was front-page news. (Thanks, Hanno.)
This week's lateral thinking puzzle is from Edward J. Harshman's 1996 book Fantastic Lateral Thinking Puzzles.
You can listen using the player above, download this episode directly, or subscribe on iTunes or via the RSS feed at http://feedpress.me/futilitycloset.
Please consider becoming a patron of Futility Closet — on our Patreon page you can pledge any amount per episode, and all contributions are greatly appreciated. You can change or cancel your pledge at any time, and we've set up some rewards to help thank you for your support.
You can also make a one-time donation via the Donate button in the sidebar of the Futility Closet website.
Please take a five-minute survey to help us find advertisers to support the show.
Many thanks to Doug Ross for the music in this episode.
If you have any questions or comments you can reach us at podcast@futilitycloset.com. You can also follow us on Facebook and Twitter. Thanks for listening!