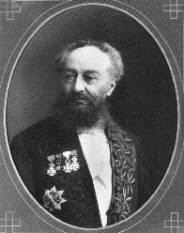 At age 13 Marie-Jean-Léon Lecoq, Marquis d'Hervey de Saint-Denys, discovered a rare talent: He could recognize a dream state while he was experiencing it, and could move and act lucidly within the dream. Eventually he filled 25 notebooks with descriptions and illustrations of his adventures in the dream world. These are now lost, but his 1867 book Les Rêves et les Moyens de Les Diriger describes some of his feats:
I change a porcelain vase into a rock-crystal fountain, from which I desire a cooling drink — and this immediately flows out through a golden tap. Some years ago I lost a particular ring whose loss I felt deeply. The memory of it comes to mind, and I should like to find it. I utter this wish, fixing my attention on a piece of coal that I pick up from the fireplace — and immediately the ring is on my finger. The dream continues in the same way until one of the apparitions I have called up charms and captivates me so much that I forget my magician's role and plunge into a new, more realistic series of illusions.
Saint-Denys believed that almost anyone could learn to do this. One of his suggestions was to keep a dream diary and to make a daily habit of completing it. Like the rest of the student's life, this habit would then itself become the raw material for his dreams — eventually he would dream of recording a dream. And if he noted the details of a dream he was recording, he would virtually be dreaming lucidly, having smuggled himself into his own slumbers.