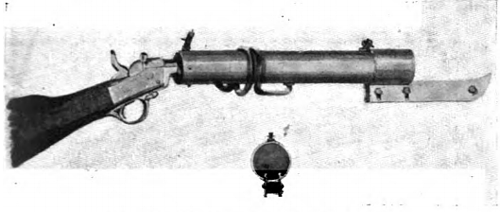 The first pitching machine was powered by gunpowder. Princeton mathematician Charles Hinton designed it for the school baseball team in 1897, hoping to spare human pitchers whose arms were giving out under the incessant demands of batting practice. At first he planned a catapult, but he found this too inaccurate. Then "it occurred to me that practically whenever men wished to impel a ball with velocity and precision, they drove it out of a tube with powder."
The result, which he wrote up in Harper's Weekly on March 20, was a shoulder-mounted cannon whose 4-foot barrel could send a ball across the home plate at 70 mph. With a fingerlike attachment it could even throw a curveball. That summer it pitched three innings in a game between two Princeton social clubs, allowing four hits, striking out eight batters, walking one, and throwing only one wild pitch.
The Washington Post predicted the end of the world ("There would be the base-burning, high-pressure, anti-friction catcher, and the shortstop made of aluminium and rivets and filled with cogs, cams, valves, shafts, and belting"), but Hinton praised the gun's handiness: "It can be used so as to deliver ball after ball at the same speed in the same curve, or it can be varied from shot to shot, according to the wish or skill of the manipulator." He took it with him to the University of Minnesota, where he worked until 1900.