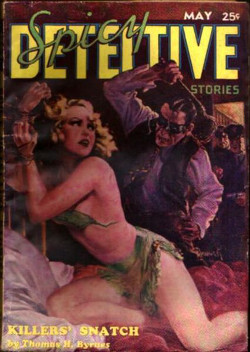 Editorial guidelines for Spicy Detective magazine, 1935:
In describing breasts of a female character, avoid anatomical descriptions.
If it is necessary for the story to have the girl give herself to a man, or be taken by him, do not go too carefully into details. …
Whenever possible, avoid complete nudity of the female characters. You can have a girl strip to her underwear or transparent negligee or nightgown, or the thin torn shred of her garments, but while the girl is alive and in contact with a man, we do not want complete nudity.
A nude female corpse is allowable, of course.
Also a girl undressing in the privacy of her own room, but when men are in the action try to keep at least a shred of something on the girls.
Do not have men in underwear in scenes with women, and no nude men at all.
"The idea is to have a very strong sex element in these stories without anything that might be intrepreted as being vulgar or obscene."
(From Nicholas Parsons, The Book of Literary Lists, 1987.)