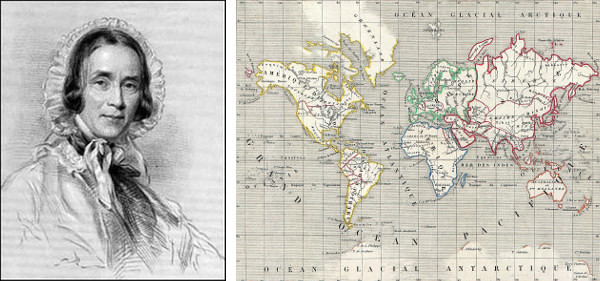 Victorian children's author Favell Lee Mortimer published three bizarre travel books that described a world full of death, vice, and peril. In this week's episode of the Futility Closet podcast we'll sample her terrifying descriptions of the lands beyond England and wonder what led her to write them.
We'll also review the movie career of an Alaskan sled dog, learn about the Soviet Union's domestication of silver foxes, and puzzle over some curious noises in a soccer stadium.
Favell Lee Mortimer's travel books for children are all available online:
The Countries of Europe Described (1850)
Far Off, or, Asia and Australia Described (1852)
Far Off, or, Africa and America Described (1854)
In 2005 Todd Pruzan published a collection of the most xenophobic passages, titled The Clumsiest People in Europe: Or, Mrs. Mortimer's Bad-Tempered Guide to the Victorian World.
Listener mail:
Fast Company has an article about the breeding of friendly foxes by Russian researchers.
And National Geographic goes into greater depth regarding the genetics and evolutionary aspects of domestication in this 2011 article.
This week's lateral thinking puzzle was submitted by listener David White, who sent these corroborating links (warning — these spoil the puzzle).
You can listen using the player above, download this episode directly, or subscribe on iTunes or via the RSS feed at http://feedpress.me/futilitycloset.
Please consider becoming a patron of Futility Closet — on our Patreon page you can pledge any amount per episode, and all contributions are greatly appreciated. You can change or cancel your pledge at any time, and we've set up some rewards to help thank you for your support.
You can also make a one-time donation via the Donate button in the sidebar of the Futility Closet website.
Many thanks to Doug Ross for the music in this episode.
If you have any questions or comments you can reach us at podcast@futilitycloset.com. And you can finally follow us on Facebook and Twitter.
Thanks for listening!