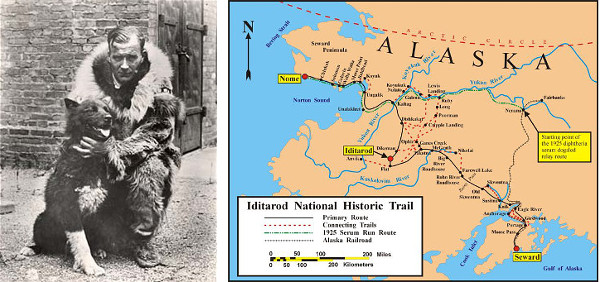 In 1925, Nome, Alaska, was struck by an outbreak of diphtheria, and only a relay of dogsleds could deliver the life-saving serum in time. In this week's episode of the Futility Closet podcast we'll follow the dogs' desperate race through arctic blizzards to save the town from epidemic.
We'll also hear a song about S.A. Andree's balloon expedition to the North Pole and puzzle over a lost accomplishment of ancient civilizations.
Our segment on the 1925 serum run to Nome was based chiefly on Gay Salisbury and Laney Salisbury's excellent 2003 book The Cruelest Miles. Here's the statue of Balto, who led the final sled into Nome, in Central Park: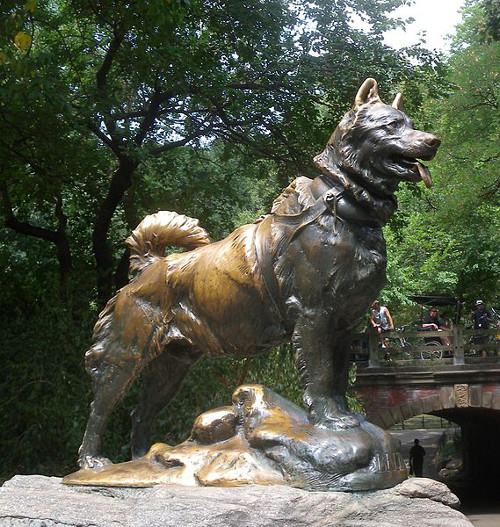 The inscription reads "Dedicated to the indomitable spirit of the sled dogs that relayed antitoxin 600 miles over rough ice, across treacherous waters, through arctic blizzards, from Nenona to the relief of stricken Nome."
"The Ballad of Knut and Nils," Yann and Cory Seznec's song honoring S.A. Andrée's disastrous 1897 attempt to reach the North Pole by balloon, is on Yann's blog. You can find more of the brothers' music here.
This week's lateral thinking puzzle is from Paul Sloane and Des McHale's 1998 book Ingenious Lateral Thinking Puzzles. Sloane invites interested readers to his Lateral Puzzles Forum, where visitors can set and solve these puzzles interactively.
This week's episode is sponsored by our patrons and by Harry's — go to Harrys.com now and they'll give you $5 off if you use the coupon code CLOSET with your first purchase.
You can listen using the player above, download this episode directly, or subscribe on iTunes or via the RSS feed at http://feedpress.me/futilitycloset.
Please consider becoming a patron of Futility Closet — on our Patreon page you can pledge any amount per episode, and all contributions are greatly appreciated. You can change or cancel your pledge at any time, and we've set up some rewards to help thank you for your support. You can also make a one-time donation via the Donate button in the sidebar of the Futility Closet website.
Many thanks to Doug Ross for the music in this episode.
If you have any questions or comments you can reach us at podcast@futilitycloset.com. Thanks for listening!