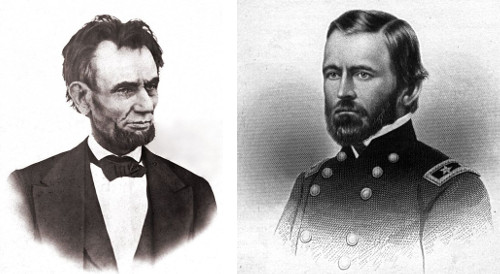 During the drive on Washington city in July 1863, Confederate sharpshooters were unknowingly presented with a particularly high-value target. Captain Robert E. Park wrote: 'The sharpshooters and the Fifth Alabama, which supported them, were hotly engaged; some of this enemy, seen behind their breastworks, were dressed in civilians' clothes, and a few had on linen coats. I suppose they were "Home Guards" composed of Treasury, Post Office and other Department clerks.' Park's 'Home Guards' were in fact President Abraham Lincoln and his retinue, who had left the White House to inspect the defences around Washington. A doctor standing a few feet away from Lincoln was hit, and only prompt action by a nearby Union officer in throwing the president to the ground prevented a sudden and dramatic change in the course of Civil War history.
— John Anderson Morrow, The Confederate Whitworth Sharpshooters, 2002
[After the Battle of Belmont,] Grant went into a cabin and lay down on a sofa to rest, but he was there only a moment. He got up almost immediately to see what was happening on deck. As he rose a musket ball cut cleanly through the boat's wooden side and splintered the head of the sofa where he had been lying. And still we waste ink and paper in trying to prove that there is no such thing as luck!
— W.E. Woodward, Meet General Grant, 1928