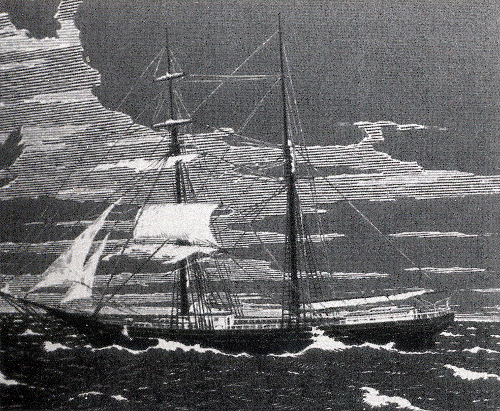 In 1872 the British merchant ship Mary Celeste was discovered drifting and apparently abandoned 600 miles off the coast of Portugal. In this episode of the Futility Closet podcast we'll review this classic mystery of the sea: Why would 10 people flee a well-provisioned, seaworthy ship in fine weather?
We'll also get an update on the legal rights of apes and puzzle over why a woman would not intervene when her sister is drugged.
Sources for our segment on the Mary Celeste:
Paul Begg, Mary Celeste: The Greatest Mystery of the Sea, 2005.
Charles Edey Fay, Mary Celeste: The Odyssey of an Abandoned Ship, 1942.
J.L. Hornibrook, "The Case of the 'Mary Celeste': An Ocean Mystery," Chambers Journal, Sept. 17, 1904.
Listener mail:
George M. Walsh, "Chimpanzees Don't Have The Same Rights As Humans, New York Court Rules," Associated Press, Dec. 5, 2014.
The opinion from the New York Supreme Court, Appellate Division:
The People of the State of New York ex rel. The Nonhuman Rights Project, Inc., on Behalf of Tommy, Appellant, v. Patrick C. Lavery, Individually and as an Officer of Circle L Trailer Sales, Inc., et al.
"Orangutan in Argentina Zoo Recognised by Court as 'Non-Human Person'," Guardian, Dec. 21, 2014.
Coffitivity "recreates the ambient sounds of a cafe to boost your creativity and help you work better."
This week's lateral thinking puzzle was submitted by listener Nick Madrid.
You can listen using the player above, download this episode directly, or subscribe on iTunes or via the RSS feed at http://feedpress.me/futilitycloset.
Please consider becoming a patron of Futility Closet — on our Patreon page you can pledge any amount per episode, and all contributions are greatly appreciated. You can change or cancel your pledge at any time, and we've set up some rewards to help thank you for your support.
You can also make a one-time donation via the Donate button in the sidebar of the Futility Closet website.
Many thanks to Doug Ross for the music in this episode.
If you have any questions or comments you can reach us at podcast@futilitycloset.com. Thanks for listening!