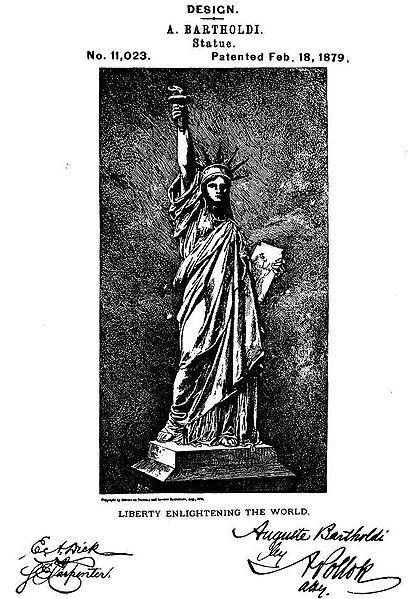 Auguste Bartholdi patented the Statue of Liberty. In 1879, seven years before its dedication in New York Harbor, the French sculptor filed a one-page abstract describing his "design for a sculpture":
The statue is that of a female figure standing erect upon a pedestal or block, the body being thrown slightly over to the left, so as to gravitate upon the left leg, the whole figure being thus in equilibrium, and symmetrically arranged with respect to a perpendicular line or axis passing through the head and left foot. The right leg, with its lower limb thrown back, is bent, resting upon the bent toe, thus giving grace to the general attitude of the figure. The body is clothed in the classical drapery, being a stola, or mantle gathered in upon the left shoulder and thrown over the skirt or tunic or under-garment, which drops in voluminous folds upon the feet. The right arm is thrown up and stretched out, with a flamboyant torch grasped in the hand. The flame of the torch is thus held high up above the figure. The arm is nude; the drapery of the sleeve is dropping down upon the shoulder in voluminous folds. In the left arm, which is falling against the body, is held a tablet, upon which is inscribed '4th July, 1776.' This tablet is made to rest against the side of the body, above the hip, and so as to occupy an inclined position with relation thereto, exhibiting the inscription. The left hand clasps the tablet so as to bring the four fingers onto the face thereof. The head, with its classical, yet severe and calm, features, is surmounted by a crown or diadem, from which radiate divergingly seven rays, tapering from the crown, and representing a halo. The feet are bare and sandal-strapped.
Bartholdi also received copyright 9939G for his "Statue of American Independence," and architect Richard Morris Hunt received copyrights for the pedestal.
Barry Moreno's Statue of Liberty Encyclopedia (2005) recounts the memory of a German immigrant who encountered the statue in 1911: "I remember we see Statue of Liberty. Gus asked me, 'What's the statue?' And then we're looking … and his father say, 'That's Christopher Columbus.' And I put my two cents out. I say, 'Listen, this don't look like Christopher Columbus. That's a lady there.'"