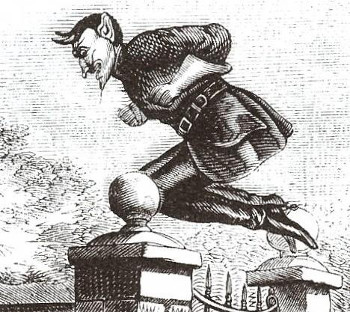 Between 1837 and 1904, rumors spread of a strange bounding devil who haunted southern England, breathing blue flames and menacing his victims with steel talons. In the latest Futility Closet podcast we review the career of Spring-Heeled Jack and speculate about his origins.
We also recount Alexander Graham Bell's efforts to help the wounded James Garfield before his doctors' treatments could kill him and puzzle over why a police manual gives instructions in a language that none of the officers speak.
Source for our segment on Spring-Heeled Jack:
Mike Dash, "Spring-Heeled Jack: To Victorian Bugaboo From Suburban Ghost," Fortean Studies 3 (1996).
Sources for our segment on Alexander Graham Bell and James Garfield:
Candice Millard, Destiny of the Republic: A Tale of Madness, Medicine and the Murder of a President, 2011.
Amanda Schaffer, "A President Felled by an Assassin and 1880's Medical Care," New York Times, July 25, 2006.
You can listen using the player above, download this episode directly, or subscribe on iTunes or via the RSS feed at http://feedpress.me/futilitycloset.
Many thanks to Doug Ross for the music in this episode.
If you have any questions or comments you can reach us at podcast@futilitycloset.com. Thanks for listening!