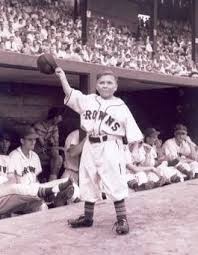 Playing baseball for the St. Louis Browns, Eddie Gaedel had a career on-base percentage of 1.000, but most people have never heard of him.
Why? Because he had only one at-bat. Gaedel was a dwarf signed by the Browns as a publicity stunt in 1951. He had a legitimate contract, so the umpire had to let him play, but since he was only 3'7″, his strike zone measured an inch and a half.
"Three thoughts went through my mind that day," said Frank Saucier, for whom Gaedel was pinch-hitting. "One, this is more like a carnival or a circus than a professional baseball game. Two, this is the greatest bit of showmanship I've ever seen. Three, this is the easiest money I'll ever make."
Tigers pitcher Bob Cain threw four balls, all high. The Tigers won 6-2, but Gaedel got a standing ovation. "For a minute," he said, "I felt like Babe Ruth." Today his jersey (number "1/8") hangs in the Baseball Hall of Fame.
"He was, by golly, the best darn midget who ever played big-league ball," wrote Browns owner Bill Veeck, who had cooked up the scheme. "He was also the only one."