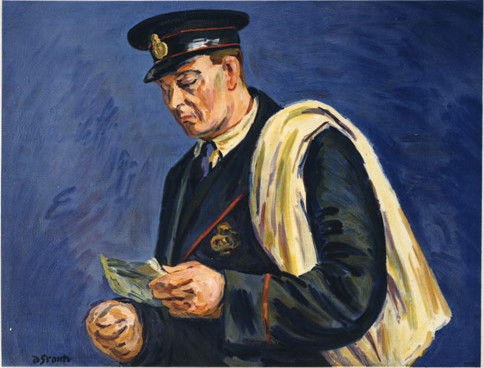 In 1898, 19-year-old W. Reginald Bray made a thorough study of British postal regulations, which laid out rules for mailing everything from bees to elephants and promised that "all letters must be delivered as addressed." He resolved to give the service "a severe test without infringing its regulations."
In this episode of the Futility Closet podcast we'll review the antics that followed, in which Bray sent turnips, bicycle pumps, shoes, and even himself through the British post. We'll also sympathize with Lucius Chittenden, a U.S. Treasury official who had to sign 12,500 bonds in one harried weekend in 1862, and puzzle over the worrying train journey of a Wall Street banker.
Our segment on W.R. Bray, the Edwardian postal experimentalist, is based chiefly on John Tingey's 2010 book The Englishman Who Posted Himself and Other Curious Objects.
Tingey maintains a website with an extensive catalog of the curios that Bray sent through the post.
Also David Leafe, "The Man Who Posted Himself," Daily Mail, March 19, 2012.
In an article in the Royal Magazine in 1904, Bray noted the usefulness of the Post Office's offer to conduct a person "to any address on payment of the mileage charge":
What mothers know that, if they like, they can send their little ones to school as letters? Possibly, as soon as the 'mother-readers' see this, the Post Offices will be crowded with toddling infants, both in and out of 'prams,' all waiting to be taken to schools, or out for a day in the country. 'But I should not like my child to be carried with postage stamps, and arrive at the school black with postmarks!' That is what I expect some mothers will say.

Oh, don't be alarmed, nothing like this will happen! All that you need to do is to take the child to the Post Office across the road, pay a small fee, and a messenger boy will escort the little one to the very door of the school. However Post Office officials do not appear anxious to gain fame as nurse providers to infants.
Past postal mischief on Futility Closet:
Sources for our segment on L.E. Chittenden, the iron-wristed Register of the Treasury under Lincoln:
Lucius Eugene Chittenden, Recollections of President Lincoln and His Administration, 1891.
Joseph F. Tuttle, "Abraham Lincoln, 'The Perfect Ruler of Men,'" Historical Register of the Colorado Society of the Sons of the American Revolution, Nov. 1, 1906.
William Juengst, "In Ruffles and Starch Cuffs: The American Jews' Part in Our International Relations," The American Hebrew & Jewish Messenger, Sept. 30, 1921.
Arthur Laurents wrote a piece for the New York Herald Tribune in 1957 that discusses the development of West Side Story.
You can listen using the player above, download this episode directly, or subscribe on iTunes or via the RSS feed at http://feedpress.me/futilitycloset. The show notes are on the blog. Many thanks to Doug Ross for the music in this episode.
If you have any questions or comments you can reach us at podcast@futilitycloset.com. Thanks for listening!