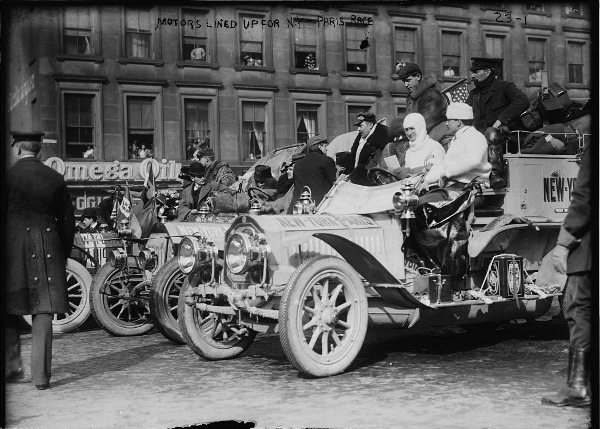 The New York Times proposed an outrageous undertaking in 1908: An automobile race westward from New York to Paris, a journey of 22,000 miles across all of North America and Asia in an era when the motorcar was "the most fragile and capricious thing on earth." In this episode of the Futility Closet podcast we'll follow the six teams who took up the challenge and attempted "the most perilous trip ever undertaken by man."
We'll also see how a tomahawk linked Alec Guinness and Grace Kelly for 25 years and hear poet Louis Phillips lament his wife's handwriting.
Sources for our segment on the Great Race:
Julie M. Fenster, Race of the Century: The Heroic True Story of the 1908 New York to Paris Auto Race, 2005.
George Schuster, The Longest Auto Race, 1966. (Schuster was the mechanic for the American team and drove much of the way.)
Dermot Cole, Hard Driving: The 1908 Auto Race from New York to Paris, 1991.
The New York Times, which co-sponsored the race, has a lot of archived coverage.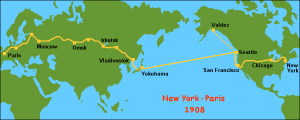 The race ran from New York City west to Seattle, then from Vladivostok to Paris, 22,000 miles of almost continuous misery. "No effort so arduous, so heroic in the Homeric sense of the word, was ever so easy to quit," Fenster writes. "All that an entrant had to do to drop out was order breakfast in bed at the hotel — and stay there. Unlike mountain climbers or polar explorers, who are long beyond the pull of comfort, the New York-to-Paris racers had to fight the constant temptation to opt for sense and civilization, both of which beckoned from very close range."
Of the 13 teams that entered, six showed up on race day, Feb. 12, 1908. A Times writer said the European entries each carried enough gear to "build another car or start an iron foundry."
One particular bit of craziness amid all the other craziness: An enormous explosion took place over Siberia as the racers were crossing it. The so-called Tunguska event, probably caused by a spaceborne object striking the earth, released 1,000 times the energy of the atomic bomb dropped on Hiroshima. The Americans were just leaving Omsk, having already passed south of that location, and heard nothing about it, but still — if you're going to visit Siberia once in your life, summer 1908 is not the time to do it.
Sources for the Grace Kelly/Alec Guinness tomahawk story:
James Spada, Grace: Secret Lives of a Princess, 1987.
Donald Spoto, High Society, 2009.
Piers Paul Read, Alec Guinness: The Authorised Biography, 2005.
I don't know where the tomahawk came from: Spada says that their co-star Jessie Royce Landis had picked it up from a local Indian reservation; Spoto that Landis had got it from a local souvenir shop; and Read that it had been presented to Guinness by "a visiting troupe of Indians."
Louis Phillips is a poet, playwright and short story writer who teaches at the School of Visual Arts in New York City. We ran his poem "On Not Being Able to Read My Wife's Handwriting" in July 2013 and have presented his humorous verses occasionally since then.
You can listen using the player above, download this episode directly, or subscribe on iTunes or via the RSS feed at http://feedpress.me/futilitycloset. The show notes are on the blog. Many thanks to Doug Ross for the music in this episode.
If you have any questions or comments you can reach us at podcast@futilitycloset.com. Thanks for listening!