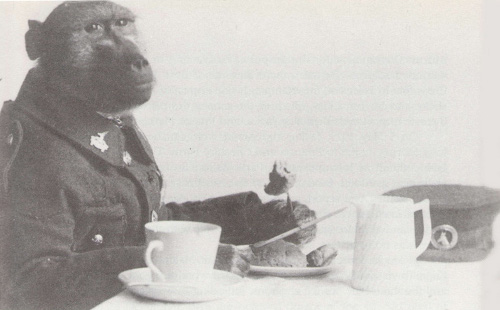 When Albert Marr joined the South African army in 1915, he received permission to bring along his pet baboon, Jackie. In this week's episode of the Futility Closet podcast we'll follow Jackie's adventures in England, Egypt, and Belgium, his work for the Red Cross after the war, and his triumphant return to Pretoria in 1919.
We'll also meet a Rhode Island lighthouse keeper's daughter who saved the lives of 18 people over a period of 48 years, and present the next Futility Closet Challenge.
Above is Jackie in Johannesburg in 1919, on his way home. Note the knife and fork. More photos, including one of Jackie saluting, can be found at the website of the South African Military Veterans Organisation of Australasia (see the gallery at the bottom of the page).
Our main source for the segment about Ida Lewis is Lenore Skomal's 2002 biography The Keeper of Lime Rock. Some images: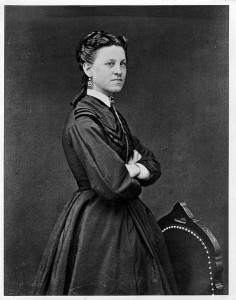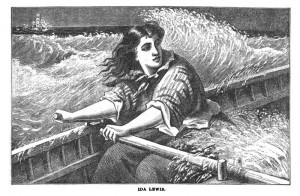 One of the soldiers she saved during her fifth rescue, on March 29, 1869, remembered, "When I saw the boat approaching and a woman rowing, I thought, She's only a woman and she will never reach us. But I soon changed my mind." Her brother Thomas said, "Ida knows how to handle a boat. She can hold one to wind'ard in a gale better than any man I ever saw, wet an oar, and yes, do it too, when the sea is breaking over her."
Here's the lighthouse in 1869, the first year of her fame: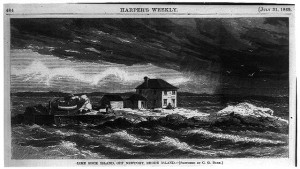 At 14 Ida was accounted the best swimmer in Newport, and at 15 she had finished her formal schooling but rowed her siblings to Newport and back each day. Her father said: "Again and again, have I seen the children from the window as they were returning from school in some heavy blow, when Ida alone was with them, and old sailor that I am, I felt that I would not give a penny for their lives, so furious was the storm — yes sir. I have watched them 'til I could not bear to look any longer, expecting every moment to see them swamped and the crew at the mercy of the waves, and then I have turned away and said to my wife — let me know if they get safe in, for I could not endure to see them perish and realize that we were powerless to save them. And oh you cannot tell the relief when she cried out: they have got safe to the rock, Father. It was a mighty weight off my mind, I can assure you. I have seen Ida in the bitter winter weather obliged to cut off her frozen stockings at the knee."
You can listen using the player above, download this episode directly, or subscribe on iTunes or via the RSS feed at http://feedpress.me/futilitycloset. The show notes are on the blog, where you can also enter your submissions in this week's Challenge. Many thanks to Doug Ross for the music in this episode.
If you have any questions or comments you can reach us at podcast@futilitycloset.com. Thanks for listening!