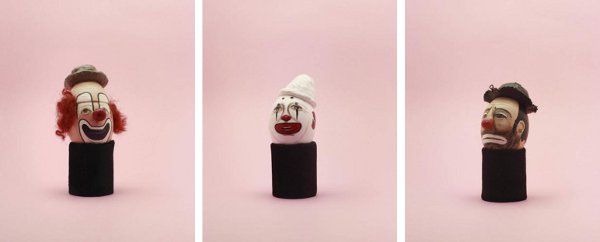 A clown's face is his livelihood; it's an unwritten rule among clowns that one must not copy the face of another. Accordingly, in 1946 London clown Stan Bult began painting the faces of his colleagues onto eggshells, effectively trademarking their identities. Bult's collection was largely destroyed in an accident in 1965, but London's Circus Clowns Club resurrected the practice in 1984 and added samples of its members' costumes and wig hair, making each into a peculiar sort of portrait.
In 1979, Leon "Buttons" McBryde, a clown with the Ringling Bros & Barnum and Bailey Circus, heard about the British practice and established his own egg registry, which now includes hundreds of portraits of clowns hand-painted by his wife, Linda. The U.S. registry has been used in at least one court case in which one clown charged another with infringing his design.
The images above, of the British collection, are by photographer Luke Stephenson; more can be seen on his website.