In 1888 a mixed-breed terrier appointed himself mascot of America's railway postal service, accompanying mailbags throughout the U.S. and eventually traveling around the world. In this week's episode of the Futility Closet podcast we'll recount Owney's postal adventures and the wave of human affection that followed him.
We'll also look at an Air Force pilot who dropped candy on parachutes to besieged German children in 1948, learn the link between drug lord Pablo Escobar and feral hippos in Colombia, and present the next Futility Closet Challenge.
Sources for the segment on Pablo Escobar and the Colombian hippos:
Simon Romero, "Colombia Confronts Drug Lord's Legacy: Hippos," New York Times, Sept. 10, 2009.
"Pablo Escobar's Fugitive Hippos: Zoologists Called in to Round Up Animals," Telegraph, Aug. 27, 2009.
We first wrote about Owney the postal dog on March 19, 2008. The Smithsonian Institution's postal museum, where his preserved remains are on display, maintains an extensive site, with images of Owney and his tags and (at the bottom) maps of his documented travels in the continental United States.
Here he is with four clerks of the Railway Mail Service: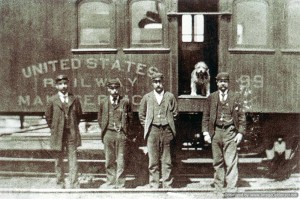 An unverified but widely retailed story, which appeared in the May 18, 1892, issue of Weekly Stamp News, tells how Owney disappeared one night while accompanying a wagon from a train to a post office. As the clerks unloaded the wagon, they realized that a sack of mail was missing, and the driver hurried back and found the lost sack near the train depot. Sitting on it was Owney, wagging his tail and sneezing ("his own way of saying, 'Here I am.'").
Source for that segment:
James Bruns, Owney: Mascot of the Railway Mail Service, Smithsonian Institution, 1990.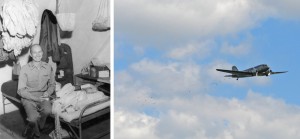 Above left: First lieutenant Hal Halvorsen ties candy to parachutes in 1948. Right: A candy drop by a Douglas C-47 Skytrain nicknamed "Rosinenbomber" commemorates the 60th anniversary of the end of the Berlin blockade in 2009. Halvorsen, now an 88-year-old retired colonel, was aboard.
Sources for that segment:
Andrei Cherny, The Candy Bombers: The Untold Story of the Berlin Aircraft and America's Finest Hour, 2008.
Terry Dickson, "A Sweet Reminder: Woman Gets Her Candy Drop Decades After Berlin," Florida Times-Union, March 23, 2014
"Candy Bomber Delivers the Goods," [Elizabeth City, NC] Daily Advance, Oct. 30, 2011
Mark R. Dorolek, "Operation Sweet," Winchester [Va.] Star, Oct. 16, 2006
A letter to Halvorsen from a grateful Berlin mother, Sept. 3, 1948:
Dear Chocolate Uncle!

The oldest of my seven sons had on this day his sixteenth birthday. But when he went out in the morning we were all sad because we had nothing to give him on his special day. But how happily everything turned out!

A parachute with chocolate landed on our roof! It was the first sweets for the children in a very long time. Chocolate cannot be bought even with money. My oldest son, a student, came home at eight o'clock and I was able, after all, to give him some birthday happiness.

I will gladly return the handkerchief parachute if necessary but I would pray for you to let me keep it as a memento of the Airbridge to Berlin.

With deepest appreciation,

Frau Helga Mueller
You can listen using the player above, download this episode directly, or subscribe on iTunes or via the RSS feed at http://feedpress.me/futilitycloset. The show notes are on the blog, where you can also enter your submissions in this week's Challenge. Many thanks to Doug Ross for the music in this episode.
Next week we plan to tell the story of lighthouse keeper Ida Lewis, "the bravest woman in America," who saved 18 lives in a series of daring rescues off the coast of Rhode Island in the late 19th century. If you have any questions or comments you can reach us at podcast@futilitycloset.com. Thanks for listening!