Two weeks before Charles Lindbergh's famous flight, a pair of French aviators attempted a similar feat. Their brave journey might have changed history — but they disappeared en route. In this week's episode of the Futility Closet podcast we'll follow the flight of the "White Bird" — and ponder what became of it.
We'll also examine a proposal to build hippo ranches in the Louisiana bayou in 1910, investigate historical outbreaks of dancing, laughing, and other strange behavior, and present the next Futility Closet challenge.
Sources on Australian feral camels and the American hippo farming proposal:
australia.gov.au, "Afghan cameleers in Australia."
Oliver Milman, "Australian feral camel population overestimated, says study," Guardian, Nov. 18, 2013.
Greg Miller, "The Crazy, Ingenious Plan to Bring Hippopotamus Ranching to America," Wired, Dec. 20, 2013.
Lauren Davis, "The Remarkable Early 20th Century Plan to Farm Hippopotamuses in the US," io9, Jan. 2, 2014.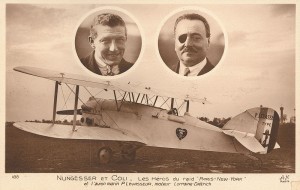 Our post on the White Bird ran on June 25, 2008. The biplane left Paris at 5:17 a.m. on May 8, 1927, in favorable weather, carrying pilot Charles Nungesser and navigator Francois Coli. Nungesser told reporters, "We have every confidence in the outcome and expect to land in New York Harbor between noon and 3 p.m. Monday." The New York Times added, "One of the most courageous witnesses to the historic event … was Madame Coli, who bravely kissed her husband good-bye and then, with tears in her eyes, watched the airmen take off."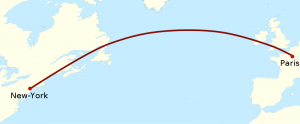 The last confirmed sighting came from a British destroyer that reported spotting the plane flying northwest at Carrig Island, off the Irish coast, headed into the Atlantic. The flight's planned route would have reached North America first in Nova Scotia, then proceeded south through Maine to Boston and New York. Ground searches have tended to center on Machias, Maine, where fisherman Anson Berry said he had heard a crash: "Did you see that plane, went down back of Round Lake Hills?"
Sources:
"Nungesser Off on Paris-New York Hop At 5:17 A.M.; Heads for Newfoundland; Plane Rises Amid Plaudits of Throng," New York Times, May 8, 1927.
Fitzhugh Green, "Expert Sees Hope For French Fliers," New York Times May 13, 1927.
"Should Atlantic Fliers Shun Radio To Save Weight?", New York Times, May 15, 1927.
"Group of Six Men Relate Hearing Plane in Trouble," The Washington Post, May 16, 1927.
"Follow Atlantic Death Lane," New York Times, Sept. 7, 1927.
"Ocean Hides Canadians," Los Angeles Times, Sept. 8, 1927.
"Hope For Flyers Wanes," Los Angeles Times, March 16, 1928.
"Unveil Monument To Nungesser, Coli," New York Times, May 8, 1928.
"Find Part Of A Plane Off Charlottetown," Los Angeles Times, Dec. 31, 1928.
"Plane 'Clue' Fails," New York Times, Feb. 3, 1961.
Vern Hutchinson, "The Mystery of the White Bird," The Washington Post, Aug. 13, 1972.
Matthew L. Wald, "Lindbergh Rivals' Wreck Sought in Maine Woods," New York Times, Feb. 19, 1987.
Our post on the dancing plague of 1518 ran on April 22, 2014. Sources:
John Waller, A Time to Dance, a Time to Die: The Extraordinary Story of the Dancing Plague of 1518, 2008.
Maia Szalavitz, "Mysterious Tics in Teen Girls: What Is Mass Psychogenic Illness?", Time, Jan. 31, 2012.
Mattelaer, J.J., and Jilek, W., "Koro–the psychological disappearance of the penis," J Sex Med., 2007 Sep; 4(5):1509-15.
Broderick, J.E., Kaplan-Liss, E., and Bass, E., "Experimental induction of psychogenic illness in the context of a medical event and media exposure," Am J Disaster Med., 2011 May-Jun; 6(3):163-72.
Bentz, L., Benmansour, E.H., and Pradier, C., "An epidemic of unidentified illness experienced by a hospital's staff: a qualitative study," Sante Publique, 2006 Mar; 18(1):55-62.
Thanks again to Doug Ross for the music in this episode.
You can listen using the player above, download this episode directly, or subscribe on iTunes or via the RSS feed at http://feedpress.me/futilitycloset. The show notes are on the blog, where you can also enter your submissions in this week's Challenge. Many thanks to Doug Ross for the music in this episode.
Next week we plan to follow the exploits of Gail Halvorsen, the "candy bomber," a U.S. Air Force pilot who dropped candy on parachutes for children during the Berlin airlift. If you have any questions or comments you can reach us at podcast@futilitycloset.com. Thanks for listening!