The 1850s saw a strange experiment in the American West: The U.S. Army imported 70 camels for help in managing the country's suddenly enormous hinterland. In this week's episode of the Futility Closet podcast we'll see how the animals acquitted themselves in an unfamiliar land under inexperienced human masters.
We'll also learn a surprising theory regarding the origin of zebra stripes; follow the further adventures of self-mailing ex-slave Henry "Box" Brown; ask whether a well-wrought piano can survive duty as a beehive, chicken incubator, and meat safe; and present the next Futility Closet Challenge.
Our original post on the U.S. Camel Corps appeared on Jan. 2, 2006.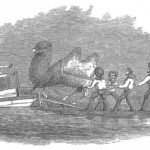 Here's an illustration of a disconsolate camel embarking for Texas, from Secretary of War Jefferson Davis' 1857 report to Congress. After two months at sea, the animals were delighted to reach dry land: No sooner were they set ashore than they "became excited to an almost uncontrollable degree, rearing, kicking, crying out, breaking halters, tearing up pickets, and by other fantastic tricks demonstrating their enjoyment of 'liberty of the soil.' Some of the males, becoming even pugnacious in their excitement, were with difficulty restrained from attacking each other."
A stunning example of the camels' capability: In Indianola, to show the value of the animals, Maj. Henry Wayne ordered a camel to be loaded with 1,226 pounds (!) of hay. Wayne wrote, "When the camel arose, without a strain, and quietly walked away with his four bales, as one who felt himself master of the situation, there was a sudden change of public sentiment, most flattering to the outlandish brute and encouraging to his military sponsors."
Further sources:
Odie B. Faulk, The U.S. Camel Corps: An Army Experiment, 1976.
Harlan D. Fowler, Camels to California: A Chapter in Western Transportation, 1950.
Lewis Burt Lesley, Uncle Sam's Camels: The Journal of May Humphreys Stacey Supplemented by the Report of Edward Fitzgerald Beale, 1929.
"The Camels That Jefferson Davis Bought," New York Times, Aug. 20, 1922.
A few articles on the conjectured origins of zebra stripes:
Christine Dell'Amore, "Why Do Zebras Have Stripes? New Study Offers Strong Evidence," National Geographic, April 1, 2014.
Rachel Kaufman, "Zebra Stripes Evolved to Repel Bloodsuckers?", National Geographic News, Feb. 9, 2012.
Jennifer Viegas, "Zebra Stripes Not for Camo, But They Do Something Else," Discovery, April 1, 2014.
Here's Charles Rosen playing Scarlatti's Sonata in G major on the 1955 LP that introduced Avner Carmi's restored "immortal piano" to the world:
My other sources for that segment:
Avner Carmi and Hannah Carmi, The Immortal Piano, 1961.
The Siena Pianoforte, Charles Rosen, pianist, Counterpoint LP, 1955.
Weldon Wallace, "Beehive, Booby Trap, Meat Locker," Baltimore Sun, Oct. 30, 1955.
"The Harp of David," Time, Aug. 29, 1955.
Weldon Wallace, "Siena Piano at Peabody," Baltimore Sun, Nov. 2, 1955.
Claudia Cassidy, "Bechet's Ballet, 'Sunless Cycle,' 'Siena' Story, Kodaly, Voodoo," Chicago Daily Tribune, Sept. 4, 1955.
Ross Dunn, "Rommel Piano Up for Auction in Israel," The Times, Sept. 7, 1996.
Thanks again to Doug Ross for the music in this episode.
You can listen using the player above, download this episode directly, or subscribe on iTunes or via the RSS feed at http://feedpress.me/futilitycloset. The show notes are on the blog, where you can also enter your submissions in this week's Challenge. Many thanks to Doug Ross for the music in this episode.
Next week we plan to follow the flight of L'Oiseau Blanc, a French biplane that crossed the Atlantic two weeks before Lindbergh — but disappeared en route. If you have any questions or comments you can reach us at podcast@futilitycloset.com. Thanks for listening!