In 1896 a strange wave of airship sightings swept Northern California; the reports of strange lights in the sky created a sensation that would briefly engulf the rest of the country. In this week's episode of the Futility Closet podcast we'll examine some of the highlights of this early "UFO" craze, including the mysterious role of a San Francisco attorney who claimed to have the answer to it all.
We'll also examine the surprising role played by modern art in disguising World War I merchant ships and modern cars, discover unexpected lions in central Illinois and southern England, and present the next Futility Closet Challenge.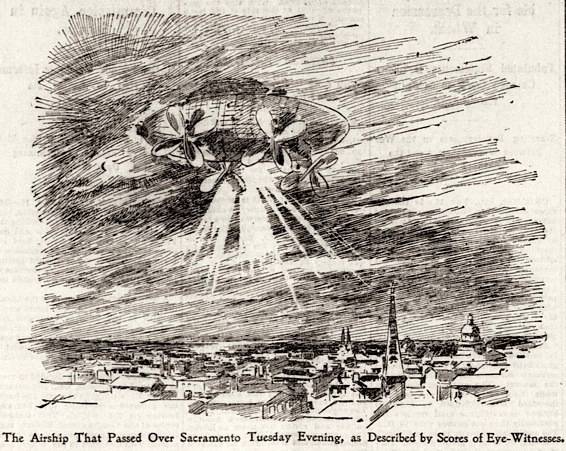 Our post about the California airships ran on March 27. Note the similarity between the newspaper illustration of the "great airship" (above) and Scientific American's illustration of Moses Cole's "aerial vessel" (below), which was patented on Nov. 9, 1886.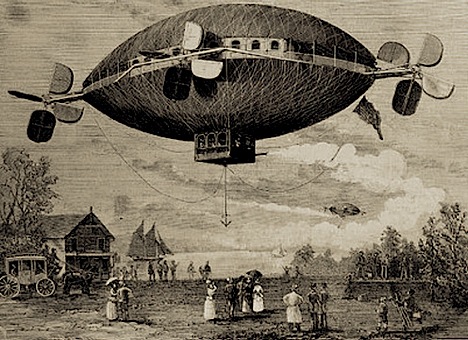 On Nov. 23, 1896, the Call published an interview with San Francisco attorney George D. Collins, in which he described his wealthy client as "a resident of Oroville and a man of wealth, about 47 years of age, and a fine looking fellow. He does not talk for five minutes without convincing his hearer that he is a man of more than ordinary intelligence."
The promised revelation never occurred, and Collins faded from the spotlight. The airship sensation spread east, sowing hoaxes as it went — here's a photo of the 36-foot ship that "landed" in Waterloo, Iowa, in April 1897:

Thanks to Susan Smith-Josephy for her update on disaffected pedestrian Lillian Alling, whose story we told on Feb. 25. If we learn anything more about Lillian's fate we'll share it on a future show.
As we mentioned, Dalhart, Texas, is closer to six other state capitals than to Texas' own capital, Austin. That's true, but according to Wolfram Alpha, Mountain City, Tenn., is closer to seven other state capitals than to its own state capital, Nashville. All are also shorter drives, except for Columbus:
Mountain City, TN to Nashville: 278.6 miles, 332.1 driving
Mountain City, TN to Charleston, WV: 130 miles, 198.4 driving
Mountain City, TN to Columbia, SC: 174.9 miles, 207.5 driving
Mountain City, TN to Raleigh, NC: 182.3 miles, 212.1 driving
Mountain City, TN to Frankfort, KY: 206.2 miles, 280 driving
Mountain City, TN to Atlanta, GA: 238.3 miles, 302 driving
Mountain City, TN to Richmond, VA: 250.4 miles, 321.9 driving
Mountain City, TN to Columbus, OH: 250.8 miles, 358.6 driving
And Ewing, Va., is closer to eight:
Ewing, VA to Richmond, VA: 334.6 miles, 406.1 driving
Ewing, VA to Frankfort, KY: 133.2 miles, 172.7 driving
Ewing, VA to Charleston, WV: 153.9 miles, 219.6 driving
Ewing, VA to Nashville, TN: 189.8 miles, 248.6 driving
Ewing, VA to Atlanta, GA: 206 miles, 282.5 driving
Ewing, VA to Columbia, SC: 226.5 miles, 299.5 driving
Ewing, VA to Columbus, OH: 232.1 miles, 331.8 driving
Ewing, VA to Indianapolis, IN: 262.2 miles, 331.7 driving
Ewing, VA to Raleigh, NC: 273.2 miles, 345 driving
The Cumberland Gap region of Virginia is also closer to Montgomery, Ala., raising its total to nine.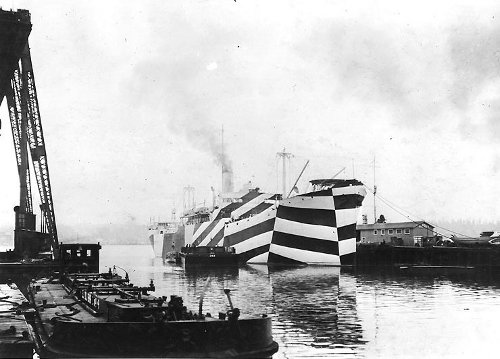 Our post on the "dazzle camouflage" applied to merchant ships during World War I ran on April 1. Ron Hughes sent the following image of a car prototype bearing a vinyl "wrap" bearing a similar pattern: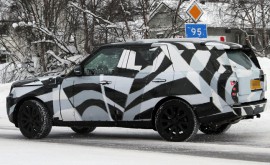 And here are two more links describing the use of camouflage in attempts to thwart auto journalists from photographing prototype cars during road testing.
Our post regarding the lion that attacked the Salisbury mail coach in 1816 ran on Sept. 30, 2012. I've published F. Childs' full poem about the episode in a separate post on this blog. If we learn anything more about "Nellie," the Illinois lion rumored to be abroad on Robert Allerton's estate in 1917, I'll share it in a future podcast.
Futility Closet Challenge: For those looking for more examples of Tom Swifties, the canonical collection is here. Post your original entry below or mail it to podcast@futilitycloset.com by Friday, April 11. Our favorite entry will win a copy of our book, Futility Closet: An Idler's Miscellany of Compendious Amusements.
Our post about Edward Stratemeyer and his novel-writing syndicate ran on Sept. 16, 2011. If you'd like to know more, the best source I know is Diedre Johnson's Edward Stratemeyer and the Stratemeyer Syndicate (1993). An interesting side note from that book: In the early years librarians regarded Stratemeyer's series with dismay and worried about their effect on children. In 1914 Franklin K. Mathiews, chief librarian for the Boy Scouts of America, began a campaign against them, writing:
One of the most valuable assets a boy has is his imagination. In proportion as this is nurtured a boy develops initiative and resourcefulness. … Story books … of the viler and cheaper sort, by over stimulation, debauch and vitiate. … As some boys read such books, their imaginations are literally 'blown out,' and they go into life as terribly crippled as though by some material explosion they had lost a hand or foot.
Stratemeyer kept right on going. When his books were banned from the Newark Public Library, he wrote, "Personally it does not matter much to me. … Taking them out of the Library has more than tripled the sales in Newark."
Thanks again to Doug Ross for the music in this episode.
You can listen using the player above, download this episode directly, or subscribe on iTunes or via the RSS feed at http://feedpress.me/futilitycloset. The show notes are on the blog, where you can also enter your submissions in this week's Challenge. Many thanks to Doug Ross for the music in this episode.
Next week we plan to recount the story of Henry "Box" Brown, a Virginia slave who mailed himself to freedom in 1849. If you have any questions or comments you can reach us at podcast@futilitycloset.com. Thanks for listening!