In 1926, a woman named Lillian Alling grew disenchanted with her life as a maid in New York City and resolved to return to her native Russia. She lacked the funds to sail east, so instead she walked west — trekking 6,000 miles alone across the breadth of Canada and into Alaska. In this week's episode of the Futility Closet podcast, we'll consider Alling's lonely, determined journey, compare it to the efforts of other long-distance pedestrians, and suggest a tool to plot your own virtual journey across the United States.
We'll also learn the truth about the balloon-borne messenger dogs of 1870 Paris, ponder the significance of October 4 to Samuel Taylor Coleridge, and offer a chance to win a book in the next Futility Closet Challenge.
Our main feature this week concerns "mystery woman" Lillian Alling, who left New York City in 1926 in a single-minded quest to walk to Siberia. Our original post about Lillian ran on Feb. 25; the single best resource about her life (what little is known of it) is Susan Smith-Josephy's Lillian Alling: The Journey Home. We also discuss the backing, fiddling, crawling, and wheelbarrow-pushing exploits of Plennie Wingo, Otto Funk, Hans Mullikin, and Jack Krohn.
TransAmerica, the free online tool to plot your own virtual course across the United States, includes a feature that lets you connect with friends. If enough of us are interested, perhaps a pack of us could swarm virtually across the U.S. this spring. [05/08/2015 UPDATE: Alas, the site was discontinued on May 6, 2015. Thanks, Mike.]
Here's the menu of one Paris restaurant from Christmas 1870, about 99 days into the Prussian siege: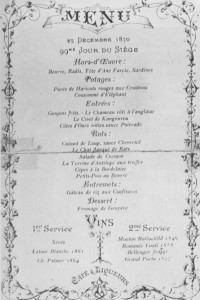 Daily News correspondent Henry Labouchère's Diary of the Besieged Resident in Paris lists his culinary impressions of horse, cat, donkey, kitten, rat, and spaniel.
If you'd like to learn more about the pigeon post and the use of balloons during the Siege of Paris, the best resource I've been able to find is John Fisher's 1965 book Airlift 1870; Frederic Luther's 1959 book Microfilm: A History contains detailed records of all 65 manned balloons that left Paris during the siege. They were strikingly helpless to the whims of the winds: Number 31 went up at 11:40 p.m. Nov. 24 and came down at 2:25 p.m. the following day in Oslo, of all places, having covered a thousand miles in 15 hours. By contrast, "one drifted for an entire night, first north, then west, then south, to land within the Prussian lines almost at the gates of Paris."
I have no resources (yet) to suggest regarding Coleridge and October 4; on a trip to UNC this week I hope to consult Stephen Weissman's promisingly titled His Brother's Keeper: A Psycho-Biography of Samuel Taylor Coleridge, which at least speculates about the date's significance to the poet.
This week's Futility Closet Challenge is inspired by another reader competition from New York magazine in the 1970s. These are collected in two books with the magnificent titles Thank You for the Giant Sea Tortoise and Maybe He's Dead, both by Mary Ann Madden. A few further "near misses" from those collections:
Tarzan of the Larger Primates
One if by land, and two if not
The Sun Comes Up, Too
Mrs. Butterfly
Here Comes the Iceman
Nebraska!
"In the Foyer of the Mountain King"
Post your own entry below or mail it to podcast@futilitycloset.com by Friday, April 4. Our favorite entry will win a copy of our book, Futility Closet: An Idler's Miscellany of Compendious Amusements.
Thanks again to Doug Ross for the music in this episode.
You can listen using the player above, download this episode directly, or subscribe on iTunes or via the RSS feed at http://feedpress.me/futilitycloset. The show notes are on the blog, where you can also enter your submissions in this week's Challenge. Many thanks to Doug Ross for the music in this episode.
Next week we plan to discuss the strange wave of airship sightings that swept the western U.S. in 1896. If you have any questions or comments you can reach us at podcast@futilitycloset.com. Thanks for listening!