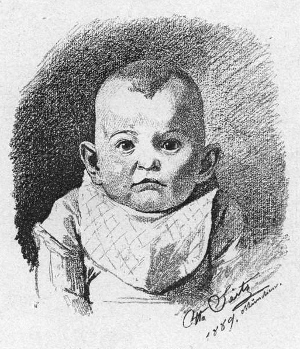 In 1880, Sidney Lanier made an important announcement to his 11-year-old son Charley:
West Chester, Pa.
August 15, 1880

My dear Charley:

A young man came to our house yesterday morning who claims that he is a brother of yours and Sidney's and Harry's and that he is entitled to all the rights and privileges appertaining unto that honorable connection. … He is a most exemplary young man. He never stays out late at night; neither chews, smokes, nor uses snuff; abstains from all intoxicating liquors, and does not touch even tea or coffee; however much preserves and fruit-cake there may be on the supper-table, he never asks for any; he does no kind of work on the Sabbath; he honors his father and mother, particularly his mother; he plays no games of hazard, not even marbles for winnance; and I am positively certain that in the whole course of his life he has never uttered a single angry or ungentlemanly word. I am bound to admit that he has his shortcomings: he isn't as particular about his clothes as I would like to see him; he has a way of trying to get both fists in his mouth which certainly does look odd in company; and he wants his breakfast in the morning at four o'clock — an hour at which it is very inconvenient, with our household arrangements, to furnish it to him. …

Earnestly hoping that this lovely little (for I omitted to mention that he is small of stature) brother Rob may find a good warm place in your three hearts without being obliged to resort to extreme measures, and with a hundred embraces for you, me dear big Charley,

I am
Your &c &c &c.