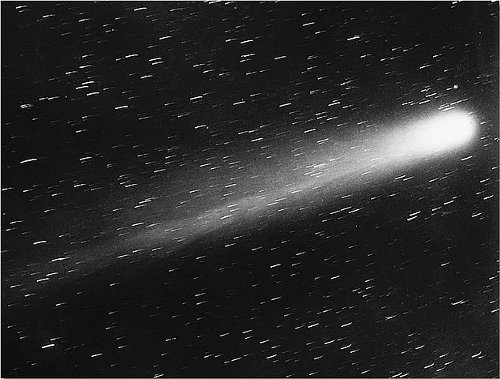 As skywatchers prepared for the return of Halley's comet in 1910, their excitement turned to trepidation when astronomer Camille Flammarion warned that cyanogen gas in the comet's tail could poison the atmosphere. The New York Times reported growing alarm among astronomers and warned, "Prof. Flammarion is of the opinion that the cyanogen gas would impregnate the atmosphere and possibly snuff out all life on the planet." The Washington Post quoted astronomer Henri Deslandres that the comet might cause torrential rains; his colleague D.J. McAdam warned that "Disease and death have frequently been ascribed to the admixture of cometary gases with the air."
As the fateful date approached, an ad appeared in a South African newspaper: "Gentleman having secured several cylinders of oxygen and having bricked up a capacious room wishes to meet others who would share the expense for Wednesday night. Numbers strictly limited." In Texas, salesmen went door to door selling "comet pills" and leather inhalers. In Germany, anxious residents began wearing comet hats and carrying comet umbrellas.
On the evening of May 18, as Earth passed into the comet's tail, hundreds marched in a candlelight parade in San Juan, and prayer vigils were held in St. Petersburg churches and on the hilltops around Mexico City. In Lexington, Ky., excited citizens held all-night services, "praying and singing to prepare … [to] meet their doom."
Nothing happened. Well, nearly nothing: In Towaco, N.J., two men had offered to pay $10 for the best description of the event as viewed from Walkman Mountain. When the town's weary residents returned from their vigil, they found their chicken coops empty.