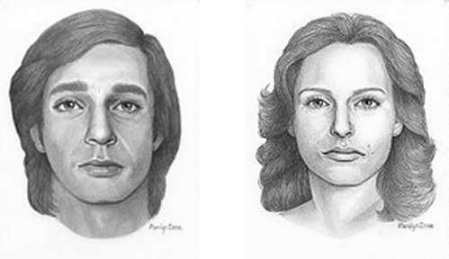 In the early morning of Aug. 9, 1976, the bodies of a young man and woman were found on a secluded dirt road in Sumter County, S.C. Each had been shot in the throat, chest, and back. Both were white and in their mid-20s. They bore no identification, but there were signs that they were wealthy: He wore an expensive Bulova watch and had had specialized dental work, and she wore a jade ring.
"They were clean, neat," remembered county coroner Verna Moore. "She was beautiful, real pretty girl. He was also."
Police circulated composite drawings across the country and asked anyone with information to come forward. The case was publicized on numerous national news programs, and police consulted Interpol, immigration authorities, and U.S. Customs investigators. In 30 years, thousands of tips have been offered, but every lead has fallen through. No one has ever explained who the pair were, how they came there, who might have killed them, or why.
"I have not given up on this case," Moore said in 2001. "The reason I am haunted is, I cannot understand how two young people disappeared from somewhere and that their parents would not be looking for them. … I can't count the times when somebody hasn't asked, 'Have you ever found out who those children are?'"