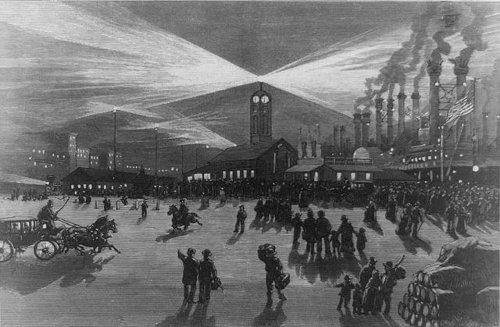 When electricity became widely available in the late 19th century, some American cities put it to its fullest use: They replaced the moon.
Fitted with powerful carbon arc lamps, "moonlight towers" could illuminate a city's streets "brightly enough to read a watch from as far away as 1,500 feet." At first they were greeted as symbols of progress: A visitor declared the citizens of Aurora, Ill., to be "in a state of delighted enthusiasm over the splendid practical results," and one Detroit resident reported that "the foliage is weird and beautiful. All places within the scope of light are bathed in the faint but fairy-like illumination of the moon in its first quarter."
But in time residents found that simple streetlights provided better illumination and eliminated the disorienting shadows cast by an artificial moon. Most of the old installations have been dismantled, but 17 of the original 31 towers in Austin, Texas, are still in use — the 165-foot landmarks have stood since 1895, and have been listed since 1976 on the National Register of Historic Places.