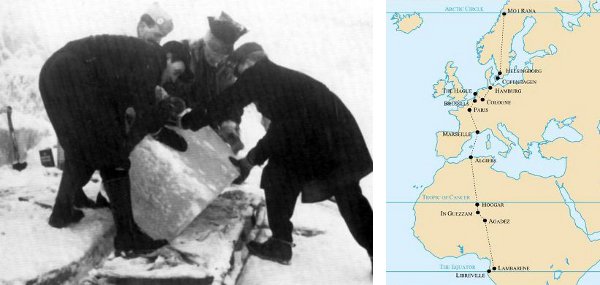 In 1959, in response to a challenge by a radio station, Norwegian insulation manufacturer Glassvatt transported a three-ton block of ice from the Arctic Circle to the equator without refrigeration.
The block, insulated with wood and glass wool, was loaded onto a truck that made its way south through Europe, crossed by freighter from Marseilles to Algiers, and then crossed the Sahara, evading guerrillas and continually bogging down in the sand.
After three weeks the crew arrived in Lambaréné, Gabon, where they delivered 300 kg of medicine to Albert Schweitzer, and they reached their destination, Libreville, a week later. Amazingly, the ice block had lost only 11 percent of its weight. They cut it up, shared it among the citizens of the equatorial city, and flew back to Norway.