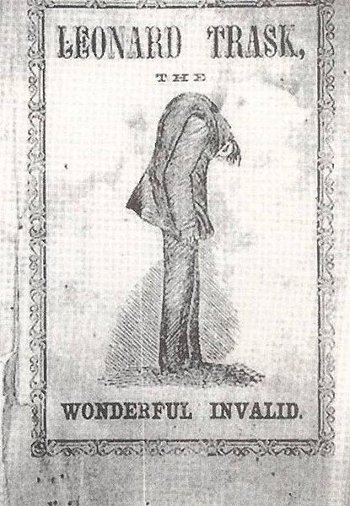 Maine farmhand Leonard Trask was 28 years old when he was thrown by a horse and began to develop a curious stiffness in his back and neck. The following spring his neck and spine began to curve, forcing him to "bow forward," but he was able to continue working.
He suffered another fall in 1840, though, and the condition grew worse. He went to 22 physicians seeking advice but was finally told that "no benefit would be likely to result therefrom." According to an 1857 account, "his neck and back have continued to curve, more and more, every year, drawing his head downwards upon his breasts so there appears but little room to press it further without stopping entirely the movement of the jaws."
In time he had difficulty even in sitting and reading, and he felt unsafe in riding a horse because he could not see where he was going. In his prime he had stood 6 foot 1, but by 1857 his stature had shrunk to 4 feet 10.5 inches, as his head had bowed entirely below his shoulders. He wrote:
In that celestial, bright and happy land,
Beyond this vale of sorrow, pain and tears,
Where I, erect in glory, hope to stand,
In faith and hope, the future bright appears.
Trask's condition was unknown at the time of his death in 1861, but it was diagnosed afterward as ankylosing spondylitis, an inflammatory disease of the skeleton in which vertebrae can fuse together. His was the first published clinical account of the disease in the United States.