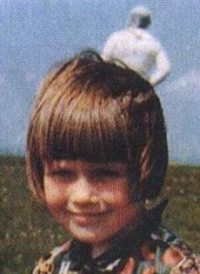 On May 23, 1964, Cumberland firefighter Jim Templeton was visiting Burgh Marsh in Cumbria, England, when he snapped three photos of his 5-year-old daughter, Elizabeth. When the pictures were developed, he was surprised to see what looked like a spaceman in the background of one of them.
Templeton told reporters, "I took the picture to the police in Carlisle, who, after many doubts, examined it and stated there was nothing suspicious about it. The local newspaper, the Cumberland News, picked up the story, and within hours it was all over the world. The picture is certainly not a fake, and I am as bemused as anyone else as to how this figure appeared in the background. Over the four decades the photo has been in the public domain, I have had many thousands of letters from all over the world with various ideas or possibilities — most of which make little sense to me."
The best guess seems to be that the figure is Templeton's wife, Annie, who had dark bobbed hair and was wearing a pale blue dress that appeared white in other photos taken that day. The camera's viewfinder obscured part of the image area, so it would have been possible for him to take the photo without realizing that Annie was in the shot. But who knows?