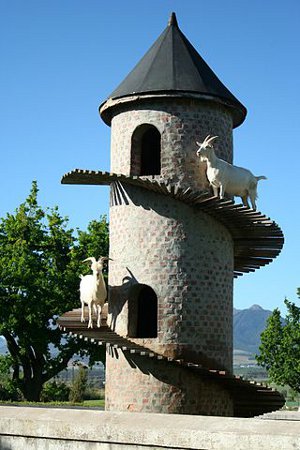 How do you occupy a goat? Build a tower for it. Portuguese winemaker Fernando Guedes da Silva da Fonseca built the first "torre das cabras" in the 1820s, a three-story stone tower surrounded with a spiral ramp made of logs.
Inspired by Fonseca, vintner Charles Back built a tower of his own at the Fairview Wine and Cheese Farm in South Africa in 1981 (shown here). Goats are intelligent, gregarious, and curious, and they like to climb, so Fairview offers the tower to a select few of the 1,000 goats in its winelands.
Inspired in turn, Illinois farmer David Johnson built a 31-foot tower in Findlay, Ill., for his 34 Saanen milk goats. "Goats love it, and people driving by can't believe it," Johnson told Farm Show magazine. "Goats are the most curious animals in the world, so they use the tower a lot. They come and go, passing each other on the ramp as needed."
"People often ask if any goats ever fall off the tower, and I always tell them the answer is no because goats are very sure-footed. Once in a while we do get freezing rain, and then I use a portable torch to melt the ice from the steps."
The South African tower has also been replicated in Norway and Argentina. Let's hope they're not planning a takeover.