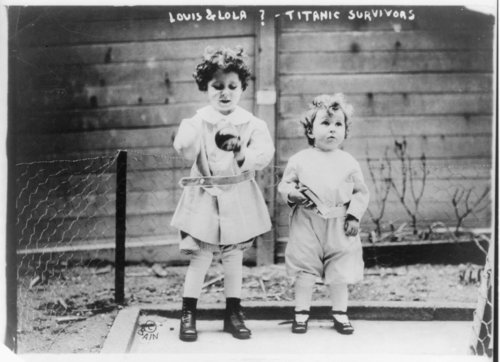 Among the survivors of the Titanic were two boys who were unclaimed by any adult. They were very young, 2 and 3 years old, and they spoke no English, so the two became a brief media sensation as authorities sought to locate their parents.
They turned out to be Edmond and Michel Navratil, sons of a French tailor who had spirited them away from their mother and booked a passage under an assumed name. When the ship hit the iceberg, "He dressed me very warmly and took me in his arms," Michel recalled. "A stranger did the same for my brother. When I think of it now, I am very moved. They knew they were going to die."
"I don't recall being afraid," Michel said. "I remember the pleasure really of going 'plop' into the lifeboat." A woman in their boat took charge of the orphans when they reached safety, and eventually their mother in France read the news reports and claimed them. Michel grew up to be a professor of philosophy and died in 2001, the last male survivor of the sinking.
"I died at 4," he once said. "Since then I have been a fare-dodger of life. A gleaner of time."