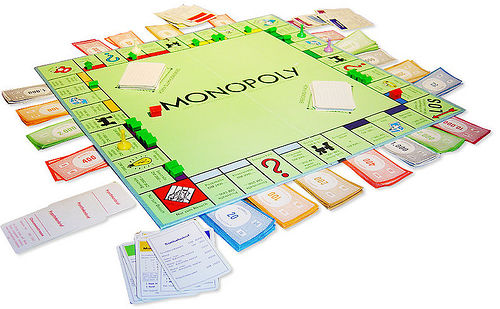 In 1941, as the British War Office searched for ways to help Allied prisoners escape from German POW camps, it found an unlikely partner: John Waddington Ltd., the U.K. licensee for Monopoly. "Games and pastimes" was an approved category of item to be included in care packages sent to captured soldiers, so Waddington's set about creating special sets to be sent to the camps.
Under the paper surface of each doctored board was a map printed on durable silk showing "escape routes from the particular prison to which each game was sent," Waddington's chairman Victor Watson told the Associated Press in 1985. "Into the other side of the board was inserted a tiny compass and several fine-quality files." Real French, German, and Italian currency was hidden in the stacks of Monopoly money.
MI-9, the intelligence division charged with helping POWs escape, smuggled the games into prison camps, where prisoners would remove the aids and then destroy the sets in order to prevent their captors from divining the scheme.
"It is not known how many airmen escaped thanks to these Monopoly games," writes Philip Orbanes in The Game Makers, his 2004 history of Parker Brothers, "but 35,000 POWs did break out of prison camps and reach partisans who helped them to safety."
(Thanks, Ron.)