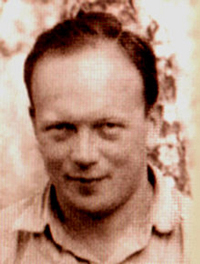 Physician Eugene Lazowski was practicing medicine in the Polish town of Rozwadów when he discovered that injecting healthy patients with dead bacteria could cause them to test positive for epidemic typhus without experiencing any symptoms.
Working secretly with his friend Stanislaw Matulewicz, Lazowski began injecting thousands of Poles in the surrounding villages, deliberately creating the appearance of an epidemic. Fearful of a contagious illness, the Nazis quarantined the affected villages rather than sending their residents on to concentration camps.
Lazowski's efforts saved an estimated 8,000 men, women, and children who would otherwise have been sent to prisons, slave labor camps, or death camps. He survived the war and moved to the United States in 1958, where he taught medicine in Illinois.
"He's why I became a doctor," one of the spared villagers, Jan Hryniewiezki, told the Chicago Sun-Times in 2000. "He was a patriotic hero because he wasn't afraid to do what he did during very bad times."
"The basic duty of a physician is to preserve life," Lazowski explained, "and this was a way of saving lives."